Posted on
Sun, Jun 16, 2013 : 12:14 p.m.
'Concert for a Cure' benefit to feature live music in memory of 8-year-old girl
By Chelsea Hoedl
The Michigan Ovarian Cancer Alliance will be hosting "Concert for a Cure," a benefit in memory of Mariel Almendras who died at 8 years old to ovarian cancer in 2011.
The benefit will begin at 6 p.m. on June 23 at LIVE, 102 S. First St., and will feature United Kingdom band, Scars on 45.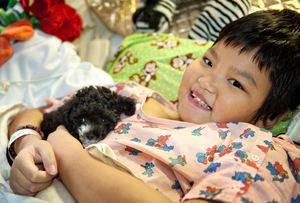 Cathy Cieglo, Almendras's second grade teacher, took her to see Scars on 45 when they performed at Sonic Lunch in 2011. Afterward, Almendras met the band and Cieglo mentioned that Almendras had just returned from a round of chemotherapy in Texas.
Cieglo said members of the band took an instant liking to Almendras.
"They could tell she was a special kid," Cieglo said. "One of the musicians from Scars on 45 asked to be kept in touch about Mariel and when they came back the following year for their second Sonic Lunch I had hoped that Mariel would be well enough to go, but she wasn't."
Almendras died on Thanksgiving Day, 2011. Cieglo stayed in touch with Alemdras's family and Pam Dahlmann, president and co-founder of MIOCA, who had met Almendras and her family during the 2011 'Turn the Towns Teal' event.
In 2012, when Scars on 45 returned to Ann Arbor for their second year performing at Sonic Lunch, Dahlmann and Almendras's family introduced themselves to the band.
"It was then that Scars on 45 told us they wanted to do a benefit concert in honor of Mariel," Dahlmann said. "That night the band's manger, Steve Nice, called to talk about the potential concert. He told me that his own mom died at the age of 56 from ovarian cancer."
Having lost her own grandmother and mother to ovarian cancer, she said the silver lining of going through these losses has made it possible to come together and put on an event to do some good.
"To me it's pretty amazing and sad at the same time that we have been brought together by ovarian cancer," Dahlmann said. "It's amazing that we're united. This is a support group that I did not have when my mom and I were going through this.
"This has been everything my mom and I hoped to create — a support group for families, caretakers and the patient."
After receiving the green light in April to go forward with the event, Dahlmann said the planning has been fast and furious.
"The first step was to find a venue, which will be LIVE," Dahlmann said. "The space is being donated to us and we've been working on obtaining sponsorships. So far we have United Bank and Trust, but we're working on pulling together more."
Dahlmann said as of last week more than 100 people had purchased tickets, and since then, there has been further promotion so Dahlmann expects that number to have gone up.
"I hope people will come out and support the cause and raise awareness," Dahlmann said. "Honestly, I think it's Mariel, my mom and my grandmother that are helping us come together today."
Tickets can be purchased online and are $20 for adults and $10 for children 15 years or younger, but can only be purchased at the door.
Chelsea Hoedl is an intern reporter for AnnArbor.com. She can be reached at choedl@mlive.com.