Posted on
Thu, Jul 29, 2010 : 5:57 p.m.
Michigan primary turnout expected to be low; Washtenaw County predicts 15-20% turnout
By AnnArbor.com Staff
Updated with information from the Ann Arbor City Clerk's office.
State election officials expect turnout in Tuesday's primary election will be below 25 percent, and some candidates say it might be even lower.
About 1.7 million voters will go to the polls, Secretary of State Terri Lynn Land forecast in a Wednesday release. She based her estimate on past turnout in primary elections, absentee voter activity and local officials' estimates.
Turnout in the 2008 primary election was 19 percent, but Land expects it to hit 23 percent this year because of hotly contested primary races for governor and some congressional seats.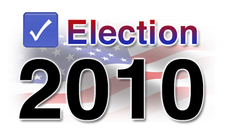 In Washtenaw County, acting elections director Matt Yankee is predicting turnout between 15 percent and 20 percent. In the August 2006 primary, 17.56 percent of Washtenaw County's registered voters cast ballots, and in the 2008 primary, 16.3 percent voted.
"But you never know," Yankee said.
Ann Arbor City Clerk Jacqueline Beaudry said requests by voters for absentee ballots are on the rise this year.
"Absentee ballot requests are up for this election and generally they are on the rise," Beaudry said today. "So far this election, we have issued 4,123 ballots as of yesterday evening."
That figure, combined with the fact that four hotly contested city races are on the ballot, could translate to increased voter turnout in Tuesday's primary election.
In the August 2008 primary, about 13.7 percent of the 93,590 registered voters in Ann Arbor cast ballots. In the August 2006 primary, about 13.5 percent of 90,612 registered voters in the city cast ballots.
The city clerk's office issued 3,360 absentee ballots in August 2008, about 83.4 percent of which were returned. In August 2006, 2,968 absentee ballots were issued, about 86.9 percent of which were returned.
Race for governor
Many gubernatorial candidates aren't sure that many voters are interested. Republican Mike Cox said during a Lansing news conference that at one point he thought turnout in the GOP primary might get close to the nearly 870,000 who voted in the January 2008 GOP presidential primary. Now he thinks Republican turnout may be below 800,000, but said he isn't worried that will affect his chances.
"We've identified enough voters (that) we feel pretty comfortable," he said.
Turnout in the Democratic primary is expected to be even lighter, and a new poll shows that fewer Democratic voters remain undecided.
The poll by Lansing-based EPIC-MRA surveyed 400 likely Democratic primary voters from Saturday through Monday, and found that Lansing Mayor Virg Bernero had 40 percent support compared to 32 percent for House Speaker Andy Dillon. Another 28 percent were undecided.
The numbers show a shift from a EPIC-MRA poll conducted in mid-June, when Dillon had 34 percent, Bernero had 24 percent, and 42 percent were undecided.
Two-thirds of the 400 people surveyed in the June poll didn't know who Bernero was, but he had nearly caught up with Dillon in name recognition in the more recent poll. Both polls, which had a margin of sampling error of plus or minus 4.9 percentage points, were conducted for the Detroit Free Press and television stations WXYZ, WJRT, WOOD and WILX.
Even though Bernero hasn't raised enough money to run his own campaign ads, union supporters began airing a third ad Wednesday referring to Dillon as a "corporate raider" responsible for lost jobs when he worked as a managing director at Wynnchurch Capital. The ad shows images of Bernero meeting with workers while he talks about his support for "working families who didn't get a Wall Street bailout or bonus."
Dillon's campaign spokesman said Wednesday that the attacks on Dillon's record are inaccurate.
"The powers that be are spending millions of dollars on ads distorting Andy Dillon's record as a business turnaround expert and attempting to distract voters by attacking his personal beliefs," T.J. Bucholz said. "We believe that Democratic primary voters will choose Dillon's independence and bold ideas over Bernero's divisive, old-style politics. And so do the power brokers — or they wouldn't be fighting so hard to take Dillon on."
Dillon's campaign said the job cuts referred to by Bernero supporters occurred after Dillon left Wynnchurch or in companies where Dillon played no role. Bernero has won major endorsements from abortion rights groups and unions unhappy with Dillon's proposals to trim public employee benefits.
Dillon added to his list of Detroit-area endorsements Wednesday by picking up the backing of the Michigan Chronicle, a black-run newspaper.
In the GOP contest, the paper endorsed Ann Arbor businessman Rick Snyder.
Snyder, a moderate Republican, has called on Democrats and independents to abandon the Democratic contest vote for him on the GOP ballot. Voters get a single primary ballot with candidates for both parties, but can vote for candidates in only one.
With five Republicans in the race, the winner of the GOP primary may be able to snag victory with less than 30 percent of the vote. That has put a premium on persuading supporters to get to the polls and pulling in undecided voters.
Cox embarked on a five-day "Putting Michigan Back To Work" tour after his Wednesday news conference. He planned to campaign in west Michigan on Thursday with 2008 presidential candidate Mike Huckabee.
Republican U.S. Rep. Pete Hoekstra, meanwhile, combined his campaigning with two new ads: a television bit in which he promises to "cut red tape, spending and taxes" and a new radio spot featuring him and his wife, Diane.
Bouchard was on his "Get Michigan Back to Work" tour Wednesday in Flint, Owosso, Alma, Mount Pleasant, Evart and Cadillac, and planned to head to Bellaire, Gaylord, Alpena, Tawas City and Beaverton on Thursday.
Snyder stopped by the Kalamazoo River during a stop in his hometown of Battle Creek to check out the effects of an oil spill. Earlier Wednesday, he held town hall meetings in Jackson, Hillsdale and Coldwater.
GOP candidate Tom George, a state senator from Kalamazoo County, which also is affected by the spill, expressed concern about the effect of the leaked oil on the environment.
Bernero planned to tour the spill site today.
The polls are open from 7 a.m. to 8 p.m. Despite the expected low turnout, local city and township clerks still ordered plenty of ballots to make sure they won't run out, Yankee said.
Most ordered enough ballots for half or two-thirds of their registered voters, he said.
- Story by the Associated Press with additional reporting by AnnArbor.com's Ryan Stanton.