Posted on
Thu, Mar 7, 2013 : 5:20 p.m.
Michigan Sen. Carl Levin won't seek re-election next year
By AnnArbor.com Staff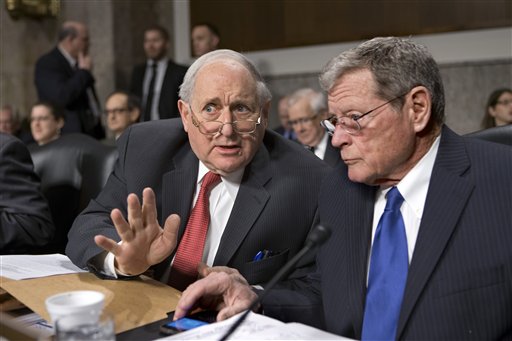 AP photo
Democratic Sen. Carl Levin of Michigan announced Thursday he will not seek re-election next year.
In a statement, Levin said he decided he could best serve Michigan and the country this year and next by concentrating on important issues rather than campaigning for re-election.
Levin was first elected to the Senate in 1978 and is the longest-serving senator in Michigan's history. The 78-year-old lawmaker said the decision was "extremely difficult." He said he loves representing the people of Michigan and fighting for what he believes is important for them.
Levin's retirement creates an open seat for Democrats in a state where Republicans have fared well in recent state elections. Democrats have to defend open seats in West Virginia, Iowa and New Jersey in the aftermath of three retirements.
Levin said he wants to focus on working to end tax avoidance schemes, fostering a manufacturing renaissance, ensuring military readiness in the face of fiscal pressure and ending what he called "the flood of hundreds of millions of secret dollars flowing into our elections."
Read Levin's statement below:
I have decided not to run for re-election in 2014.

This decision was extremely difficult because I love representing the people of Michigan in the U.S. Senate and fighting for the things that I believe are important to them.

As Barbara and I struggled with the question of whether I should run again, we focused on our belief that our country is at a crossroads that will determine our economic health and security for decades to come. We decided that I can best serve my state and nation by concentrating in the next two years on the challenging issues before us that I am in a position to help address; in other words, by doing my job without the distraction of campaigning for re-election.

Here are some of those issues. Years of bipartisan work by the Permanent Subcommittee on Investigations that I chair have shed light on tax avoidance schemes that are a major drain on our treasury. The huge loss of corporate tax receipts caused by the shift of U.S. corporate tax revenue to offshore tax havens is but one example of the egregious tax loopholes that we must end. Thirty of our most profitable companies paid no taxes over a recent three year period although they had over $150 billion in profits.

AP photo

Tax avoidance schemes that have no economic justification or purpose other than to avoid paying taxes may be legal but they should not be. These schemes add hundreds of billions of dollars to the deficit. They lead to cuts in education, research, national security, law enforcement, infrastructure, food safety and other important investments in our nation. And they add to the tax burden of ordinary Americans who have to pick up the slack and accelerate the economic inequality in our country. I want to fight to bring an end to this unjustified drain on the Treasury.

Second, I want to ensure that the manufacturing renaissance that has led Michigan's economic comeback continues. We've made progress in building the partnerships we need to help U.S. manufacturers succeed, but the next two years will be crucial to sustaining and building on that progress.

A third item I want to tackle is a growing blight on our political system that I believe I can help address: the use of secret money to fund political campaigns. Our tax laws are supposed to prevent secret contributions to tax exempt organizations for political purposes. My Permanent Subcommittee on Investigations needs to look into the failure of the IRS to enforce our tax laws and stem the flood of hundreds of millions of secret dollars flowing into our elections, eroding public confidence in our democracy.

Finally, the next two years will also be important in dealing with fiscal pressures on our military readiness. As Chairman of the Senate Armed Services Committee, I am determined to do all I can to address that issue. I also believe we need to pursue the rapid transfer of responsibility for Afghan security to the Afghans. And, as our troops come home, we must do a better job of caring for those who bear both the visible and invisible wounds of war.

These issues will have an enormous impact on the people of Michigan and the nation for years to come, and we need to confront them. I can think of no better way to spend the next two years than to devote all of my energy and attention to taking on these challenges.
The Associated Press contributed to this report.