Posted on
Thu, May 12, 2011 : 5:45 p.m.
Michigan business tax overhaul on its way to Gov. Rick Snyder's desk for signature
By Ryan J. Stanton
(This story has been updated to reflect that the House has concurred with the plan, which now awaits Gov. Rick Snyder's signature.)
The Michigan Senate this afternoon approved Republican Gov. Rick Snyder's proposed overhaul of the state's business and income tax codes — but just barely.
The vote on House Bill 4361 fell 19-19, with some Republicans joining Democrats in opposing the legislation, but Lt. Gov. Brian Calley broke the tie to pass it.
The Senate is made up of 26 Republicans and 12 Democrats.
House Republicans quickly concurred with the Senate's changes in a 56-52 vote today, sending the legislation to Snyder for his signature.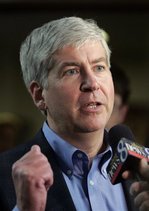 Republicans see the the legislation — which replaces the Michigan Business Tax with a 6 percent corporate income tax on C-corporations only — as being key to reinventing Michigan and making the state more competitive for attracting businesses.
But Democrats say it unfairly shifts the state's tax burden to poor and elderly residents while giving corporations at least a $1.7 billion tax break.
Sen. Rebekah Warren, D-Ann Arbor, issued a statement shortly after voting in opposition of the legislation, which she said funds a corporate tax break "on the backs of our most vulnerable citizens, without the promise of creating a single job."
"Make no mistake, this plan may fix our budget deficit for today, but it does nothing to preserve our way of life for tomorrow," Warren said.
Warren said the version of the bill passed today actually added back in some credits that give additional money back to businesses. She said the administration hasn't shown exact numbers, but she estimates it could be closer to a $2 billion tax break now.
The Senate-approved plan institutes a public pension tax, reduces the Earned Income Tax Credit for low-income workers and eliminates charitable giving credits.
Snyder credited the Legislature for passing what he considers landmark reforms, saying taking bold action is necessary to put Michigan on the path to prosperity again. He also offered special thanks to Calley, calling him a "key architect of this proposal."
Michigan GOP Chairman Bobby Schostak issued a statement saying the state took an enormous step toward rebuilding its job base and securing prosperity for its workers.
"We will rebuild Michigan and turn this state into a destination for prosperity once again," Schostak said, adding the MBT has stifled job growth by attacking business revenue that could be reinvested in jobs, equipment and salaries.
"I applaud Governor Snyder's bold steps to grow jobs, increase payrolls, and secure a brighter future for our families," Schostak said.
The Michigan League for Human Services said it was glad that the plan passed today at least preserves a portion of the state EITC — giving low-income filers a 6 percent match, rather than the 20 percent match as the credit stands now.
Gilda Jacobs, president and CEO of the league, said the 6 percent state credit is a more efficient and effective way for Michigan to help its low-income working families than an earlier proposal that included a $25 per child tax credit.
"We appreciate the willingness of the administration and Senate leaders to work with us to find a way that best targets help to low-income working families," Jacobs said. "While we would prefer to have the state EITC continued at 20 percent of the federal EITC, we believe this an acceptable compromise given the budget balancing plans of Gov. Snyder and the Legislature."
State Rep. David Rutledge, D-Superior Township, said he was glad the Republican legislative leadership at least kept a scaled-back EITC and preserved brownfield credits that help make urban investment possible where it might not occur otherwise.
"But I was deeply disappointed that most of the other provisions of the plan remain, such as the pension tax, the elimination of many credit programs that work, and deep cuts to state support for K-12 and higher education, all paying for a $1.8 billion business tax cut," he said. "I fear that this tax plan will have devastating impacts on all Michigan residents, and for that reason I voted against the plan at every opportunity."
Ryan J. Stanton covers government and politics for AnnArbor.com. Reach him at ryanstanton@annarbor.com or 734-623-2529. You also can follow him on Twitter or subscribe to AnnArbor.com's e-mail newsletters.