Posted on
Fri, Mar 9, 2012 : 3:15 p.m.
Michigan set to lose $4.2M in federal higher education funding
By Kellie Woodhouse
The federal government is withholding $4.2 million in higher education funding from Michigan because the state violated grant guidelines that discourage states from cutting back support to public institutions, according to a recent WZZM report.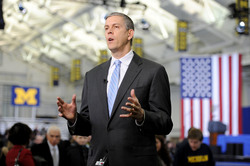 The report on the Grand Rapids television station states that unless Michigan restores $58 million of the funds it cut in 2010, the state will lose $4.2 million in College Access Challenge Grant funds. Michigan has received funding from the grant since it was created in 2008, according to U.S. Department of Education records.
The state's budget office told WZZM absorbing the $4.2 million loss is more feasible than restoring $58 million in cut funding.
"Given the many other priorities in our budget, and given the commitment to structural balance, committing an additional $58 million was not a decision that made sense for Michigan," said Kurt Weiss, spokesman for the state budget office.
Read the full article here.