Posted on
Sun, Dec 2, 2012 : 11:02 a.m.
Michigan State Police car to be filled with donations Sunday, Dec. 9
By Lisa Carolin
"Stuffing a Blue Goose for Christmas" is a program to help needy families in the area, not something that should raise the ire of animal-rights activists. "Blue Goose" is a nickname for a Michigan State Police patrol car, and the goal is to fill a car full of toys, clothing and food Sunday, Dec. 9 outside the Saline Walmart, 7000 E. Michigan Ave.
Donations can but don't have to come from Walmart and can also be taken directly to the Salvation Army. Trooper Duane Zook, of the Michigan State Police, says he would not only like to fill the Blue Goose with donations, but to fill two Salvation Army vans as well.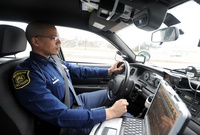 Angela Cesere | AnnArbor.com file photo
"This is a hard time for families in general," said Zook. "I'm the community service trooper, and that entails finding specific needs in Washtenaw and Livingston counties. There is panhandling, homelessness, and poverty, which mean families don't have enough food to eat and kids don't have toys."
The effort is a collaboration among the Michigan State Police, the Washtenaw County Department of Human Services, and the Salvation Army in Ann Arbor. The Pittsfield Township Department of Public Safety will also have officers helping out Sunday.
"You can donate something as small as a can of green beans," said Zook. "If we can get each person to donate one thing, it will be a huge success."
The program was created by Trooper Ted Peterson on the west side of Michigan in 2007 and has been adopted in other parts of the state.
The Salvation Army is hoping for food, toys and clothing to be donated Sunday between the hours of 10 a.m.-6 p.m.. For more information, contact Zook at 810-227-1051.