Posted on
Wed, Aug 1, 2012 : 11:34 a.m.
University of Michigan a top lobbying spender among state colleges
By Kellie Woodhouse
University of Michigan has spent $135,000 on federal lobbyists thus far in 2012.
That's the second-highest amount spent by one of Michigan's 15 public universities this year, according to a database compiled by the Center for Responsive Politics.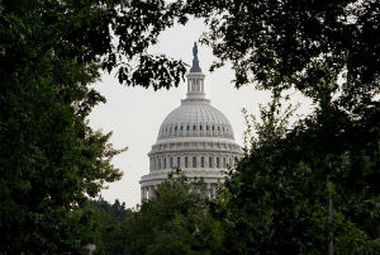 AP Photo
Together, Michigan's three research universities have spent $465,000 on federal lobbying so far this year. At $200,000,
Michigan State University
spent the most.
Wayne State University
spent $130,000.
The three research universities regularly top the list of state schools that spend the most in Washington, D.C. Lobbying is a common expense among research colleges competing for grants and federal research funding in Washington.
In 2011 U-M spent $470,000 on federal lobbying, the highest amount of any state university in Michigan.
CFRP pulled its database figures from Senate Office of Public Records data. State lobbying expenses are not included in the database.
According to state figures, U-M spent $106,633 lobbying law makers in Lansing last year.
Michael Boulus, executive director of the President's Council of State Universities of Michigan, said that it's typical for research schools to be keen spenders when lobbying lawmakers.
"You have to have a presence in Washington in order to generate the dollars available," he said.
"There's a lot of money" available, Boulus continued. "If you're a research university, you are looking at these earmarks and these grants to bolster [research] activities."
In 2010 Michigan's 15 public universities generated $1.85 billion in federal research funding.
U-M spent $1.24 billion in research funds in 2010-11, the highest amount of any U.S. public university, according to the National Science Foundation. The previous year, 58 percent of U-M's research funds came from the federal government.
"That's a pretty good return on the investment," Boulus surmised.
U-M opened a D.C. office in 1990 in order to maintain visibility in Washington, said Cynthia WIlbanks, university vice president for governmental affairs.
"I think it's very important that our voice be heard in many ways," she said. "That might be indirect meetings with the legislators, or it might be testifying before a committee. But we have an important role."
Stephen Forrest, U-M vice president for research, said earlier this year that he anticipates federal research funding to flatline or decline in the coming year. According to fiscal 2013 projected budget data, the Ann Arbor school already has experienced a slight dip in federally-funded research spending.
How does U-M compare?
The California State University system topped the list of 2012 spenders, spending $575,000 on lobbyist fees for its 23 campuses. At $480,000 thus far in 2012, Boston University was the single school that topped the list.
U-M was outspent by Harvard University, which spent $250,000, and peer college Pennsylvania State University, which spent $220,000. It outspent peer schools University of Virginia, which spent $80,000 and University of Maryland, which spent $30,000 thus far, according to the database.
Ohio State University has spent $140,000 on federal lobbying in 2012.
Eastern Michigan University has spent $20,000.
According to the database, education organizations have spent $44.6 million this year on lobbying expenses. A total of $1.64 billion overall had been spent on federal lobbying as of July 24, 2012.
U-M's lobbying expenditures have increased by more than 50 percent in the past decade. In 2002, the school spent $300,000 on federal lobbying, according to the database.
MLive education reporter Dave Murray contributed to this article. Kellie Woodhouse covers higher education for AnnArbor.com. Reach her at kelliewoodhouse@annarbor.com or 734-623-4602 and follow her on twitter.