Posted on
Thu, Dec 3, 2009 : 6:03 p.m.
Former Wolverines walk-on Mike Milano sentenced to court costs, no probation
By Art Aisner
Former University of Michigan football walk-on Michael Milano has essentially served probation for the past 13 months since being accused of attacking a hockey player during an alcohol-fueled confrontation, a Washtenaw County Circuit Court judge said today.
Judge David Swartz ruled that was enough, sentencing Milano to no jail or probation time on a misdemeanor assault conviction. Milano also can petition to have the conviction removed from his record in five years.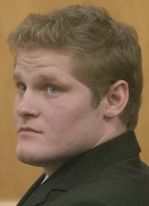 Milano was charged with assault for throwing then fellow student athlete Steven Kampfer head-first to the ground outside the East Quad residence hall on Oct. 12, 2008.
Kampfer, a senior defenseman on U-M's hockey team, suffered a serious head injury and couldn't play for more than six weeks. Testimony during a four-day trial in October indicated the assault occurred after a heated verbal exchange between two groups of friends as they walked back from a bar.
A jury convicted Milano of aggravated assault, a high-court misdemeanor punishable by up to one year in jail. But jurors acquitted him on one felony assault charge after hearing Milano testify he confronted Kampfer for being physically rough with an ex-girlfriend.
Milano, 23, reiterated that claim today prior to being sentenced to pay $600 in fines and costs, and a restitution amount yet to be determined.
"From day one I've told the truth," Milano said. "I'm sorry he was hurt. My only intent was to come to the aid of a girl who was being harmed."
Swartz, who indicated he would have acquitted Milano on both counts after the verdict was read, reasoned Milano expressed remorse for the assault. The judge said he agreed with probation officers who concluded he was duly punished by being suspended from the football team during his senior year.
Swartz said Milano also understandably feared for his safety after witnesses testified Kampfer, who was underage, was highly intoxicated and abusive.
"There was credible evidence that (Milano) had reason to feel threatened that the jury could have easily acquitted him," Swartz said.
He noted Kampfer left that information out of a lengthy and impassioned victim impact statement he wrote. It was read aloud by Assistant Prosecutor Paul Barnett.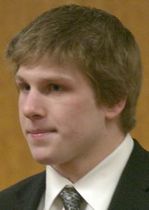 Kampfer indicated in the letter he decided to attend classes this close to final exams rather than let Milano "take another moment of my life."
Kampfer wrote he was traumatized by the injury and feared for his life repeatedly after the assault because he couldn't turn his head when walking the streets or on campus. He suffered post-traumatic stress that manifested in panic attacks and required psychiatric therapy twice a week, he wrote.
Kampfer asked Swartz to sentence Milano to more than 10 weeks in jail - the amount of time Kampfer needed to rehab his injury - five years of probation without expungement, alcohol rehabilitation and anger management classes.
"He deserves to be taught a lesson, and if he's let go, it'll be a slap in the face to the jury," Kampfer wrote.
John Shea, Milano's attorney, said he felt like he was "in 'Alice in Wonderland'" after hearing Kampfer's request.
"Mr. Kampfer was abusing a young woman publicly, and somebody had to intervene," Shea said. "No good deed goes unpunished."
Shea argued a probation sentence would serve little purpose and pose an unnecessary burden as Milano prepares to spend the next four month working for children's organizations abroad. He has since graduated, intends to go to law school, and will likely live in his native Ohio upon his return from overseas, Shea said.
Kampfer's parents attended the proceedings and declined comment to AnnArbor.com.
Art Aisner is a freelance writer for AnnArbor.com. Reach the news desk at news@annarbor.com or 734-623-2530.