Posted on
Wed, Jun 16, 2010 : 6:02 a.m.
Milan bar fined $800 for hosting unregulated bikini Jell-O wrestling tournament
By Art Aisner
An unregulated bikini Jell-O wrestling tournament on Super Bowl Sunday cost a Milan bar owner $800 in fines, according to the Michigan Liquor Control Commission.
Dino's Dugout Sports Lounge, at 1035 Dexter St., was cited for six violations, including failing to have a proper entertainment permit and serving already intoxicated patrons during the Feb. 7 event that coincided with Super Bowl XLII.
Commission records indicate the panel investigated the matter for two months and concluded the owners also allowed intoxicated people to loiter, gave alcoholic beverages away for free, and didn't have a current business charter filed with the state.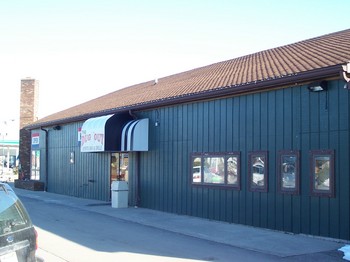 Art Aisner | For AnnArbor.com
A hearing on the violations occurred in early May, and owner Dino Koukoumtzis recently acknowledged three of the citations, records show.
Koukoumtzis admitted to selling alcohol to an intoxicated person, not having a proper dance-entertainment permit, and the charter violation. He paid $500, $200 and $100, respectively, on the violations. The three other citations were dismissed, records show.
Commission officials could not be reached for comment Tuesday, but previously said the charges could warrant revocation of the liquor license, which is shared with the Campfire Restaurant at the same location.
The violations were forwarded to the state by Milan police after officers arrested one of the wrestlers for drunken driving shortly after she left the bar. Jennifer McComas, 29, was clad in a bikini and covered in orange Jell-O when police stopped her vehicle for running a stop sign, reports said.
Police couldn't conduct typical sobriety tests because of the 20-degree temperatures but determined she had a blood alcohol content of .147, nearly double the state's legal limit to drive. McComas, 29, pleaded guilty to one count of impaired driving last month and was sentenced to probation, court records show.
Both the restaurant and sports bar continue operating as they have since before the event.
Koukoumtzis declined to comment about the violations or whether he would host similar events in the future. He said the issue with the business charter was a minor oversight after he inherited the family business several years ago.
"We're just going to move forward," he said.
Art Aisner is a freelance writer for AnnArbor.com. Reach the news desk at news@annarbor.com or 734-623-2530.