Milan News-Leader:

Milan schools to drop Native American imagery, keep Big Reds name

Posted on Tue, Apr 17, 2012 : 10:13 a.m.
Milan Area Schools will drop all Native American imagery as it develops a new logo and mascot, while keeping the name Big Reds for its athletic teams, the Milan News-Leader reported.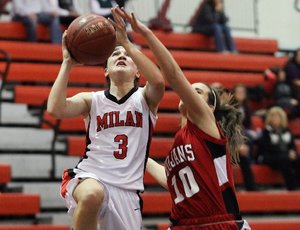 File photo
The school board approved the plan in a 6-1 vote at a recent meeting. The resolution calls for the removal of all Native American imagery by Aug. 30, 2015, with the exception of the chief on the middle school floor and images used in the educational process, the newspaper reported.
Although district officials say the nickname arose from the use of red uniforms and was not originally associated with Native Americans, images such as a spear and feather and the chief image on the gym floor have become associated with teams over the years.
The district began looking at the issue after resident James Farrar complained about the use of the images.