Posted on
Wed, Jan 4, 2012 : 5:57 a.m.
Mild winter means less salt use, less overtime for Road Commission
By Lisa Allmendinger
With not a lot of snow the last two months, Washtenaw County Road Commission employees have been grading gravel roads throughout the county and working on other routine maintenance.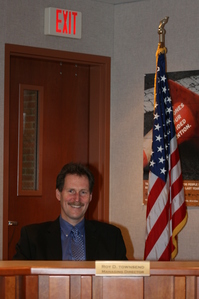 Lisa Allmendinger | AnnArbor.com
"Thankfully, so far it's been a mild winter," said Road Commission Chairman
Doug Fuller
, who asked for a report accounting for the amount of overtime that's been amassed up to this point.
In fact, as the crews ready for the inevitable first substantial snowfall of the New Year, much less salt was used in November and December when compared with last year.
"It's roughly about half as much," said Aaron Berkholz, new superintendent of operations, said Tuesday afternoon.
Records show that 1,745 tons of salt were spread through Dec. 27. "This compares to 3,618 tons for the same time in 2010," he said.
Next month, it's expected that a report of a complete list of planned major road projects for 2012 and when they will go out for bid will be compiled for the Road Commissioners by new Director of Engineering Sheryl Siddall.
Berkholz also told Road Commissioners that following a "rash of manhole thefts and storm sewer inlet grates," two "accused thieves were caught" after they sold the items to a scrap yard on Milan-Oakville Road.
There were no reports of accidents from the thefts, and Road Commission crews immediately marked the open holes with barrels and cones, he said, as soon as they were alerted to them. "We've taken measures to try and prevent future thefts," he said.
In addition, the Road Commissioners unanimously approved a new contract for the 2012 local road matching program funding and will soon begin meeting with elected officials from all 20 townships to discuss road projects. Residents who would like specific roads fixed in 2012 should contact their township supervisors with their recommendations.
Lisa Allmendinger is a regional reporter for AnnArbor.com. She can be reached at lisaallmendinger@annarbor.com.