Posted on
Thu, Mar 1, 2012 : 5:58 a.m.
Ann Arbor Schools launch $45.8M tech bond campaign
By Danielle Arndt
Mostly supporters showed up at Huron High School Wednesday night to kick off the Ann Arbor schools technology millage campaign.
Of the estimated 50 people in attendance, the majority were school board trustees, principals, parent-teacher organization representatives and members of the Ann Arbor Citizens Millage Committee.
Danielle Arndt I AnnArbor.com
When asked if they were disappointed that more people from the public did not show up to learn about the proposal, which will appear on the May 8 ballot, A2 CMC members largely said no.
"I was actually excited that for a night with poor weather we were able to have 17 schools represented," said Donna Lasinski, millage committee chairwoman.
The dense fog did not prevent Ann Arbor Open parent Mary Krasan from asking her questions. She was just one of three people to raise her hand following a presentation on the bond by Superintendent Patricia Green, Executive Director of Physical Properties Randy Trent and local bond attorney Amanda Van Dusen.
Krasan said technology is necessary, but it is not an end in itself. It's a means to an end, Krasan said, adding she wants more concrete examples of how the technology bond will directly impact kids in the classroom.
In order to be convinced the millage will in fact help students get ahead, Krasan wants proof that teachers can successfully integrate these tools into their lesson plans.
"Show me the educational value," she said. "Show me teachers working with it. … I want to see video of second graders and teachers huddled around this technology… show me how education is enhanced by it. … Students using a program to develop a project — something hands on."
Krasan expressed concerns about training for teachers and ensuring they are properly taught to use the technology and then are following through with the training. She said there has to be accountability.
"Teachers have a lot on their plates. Room has to be made for training … and time," she said, adding administrators can't pile on extra tasks and responsibilities during training time just because they have everyone gathered together.
Deputy Superintendent of Instruction Alesia Flye said while bond money cannot be used toward training, only infrastructure and equipment, professional development is a critical piece of the district's technology plan.
Ann Farnham and Simone McDaniel both came to Wednesday's kickoff to learn about how to best answer questions about the bond when out in the community. The women already were supporters of the millage, they said.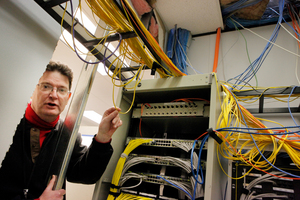 Chris Asadian | AnnArbor.com
"My understanding is that this will keep us current," said Farnham, who serves as the director of promotions and community relations at the
Ann Arbor PTO Thrift Shop
.
She said by today's standards, the items in the bond plan are not "fancy toys," they are the equivalent of "work books and pencils — basic stuff."
"In my opinion, anyone who stays home or votes 'no' (on May 8) is a medievalist, and is not aware of where the world is or where it's going," said Brit Satchwell, president of the Ann Arbor Education Association.
Farnham said she does not fault the district for asking the community to fund the technology improvements.
"If we can't do that (pay an extra .45 mills in taxes for the bond), then we are not stepping up and doing our part as parents for our children's future," Farnham said. "We wish the state gave us more money."
A2 CMC member Steve Norton said: "We need to think of this as one of the few opportunities we (as parents) have to make a decision about how money is spent on our schools. … Typically we are at the mercy of lawmakers."
McDaniel, a Pittsfield elementary parent, agreed. She said this is an opportunity for community members to give more money to the schools without a portion of it ending up in Lansing or elsewhere.
Lasinski said generally only about one-third of every $1 people pay in property taxes comes back to the district.
Mike Harris, technology teacher at Clague Middle School, said he attended Wednesday's meeting to support the bond. He has a 3-year-old and a 5-year-old whom he wants to have "access to the best," he said.
Despite being a proponent for the bond and knowing the district needs to upgrade its technology, he said he still has concerns.
"These are tough economic times," Harris said. "Ann Arbor is historically a giving district, but in an ideal world we wouldn't have to ask (for the money) right now."
Staff reporter Danielle Arndt covers K-12 education for AnnArbor.com. Follow her on Twitter @DanielleArndt or email her at daniellearndt@annarbor.com.