Posted on
Thu, Jul 5, 2012 : 5:57 a.m.
Minding their peas: Food Gatherers proposes $2.5 million building addition to store produce and protein
By Janet Miller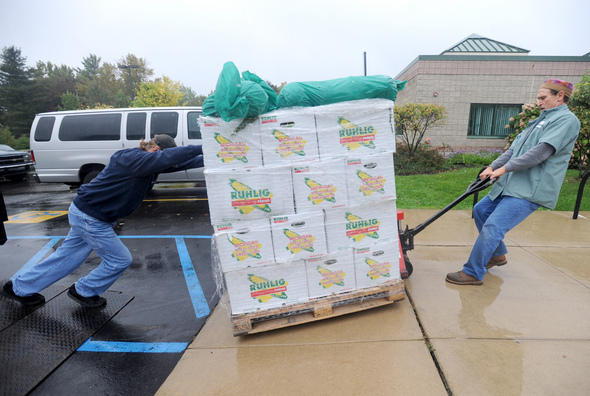 Angela J. Cesere | AnnArbor.com file photo
Food Gatherers
, the food rescue and food bank program for
Washtenaw County
, is growing.
The nonprofit last week submitted plans to the Ann Arbor Planning Commission to build an addition that will increase its warehouse and office space by roughly 75 percent. This would allow Food Gatherers to continue its push to provide more fresh produce and protein to the county's hungry.
Under the proposal, Food Gatherers would build a 12,700 addition to the front and rear of the organization's building at 1 Carrot Way on the north side of Ann Arbor, north of Dhu Varren Road. There also would be an additional 22 parking spaces.
The project cost, which includes equipment, is $2.5 million, said Eileen Spring, president and chief executive officer of Food Gatherers. The nonprofit already has $1.5 million committed to the project, and will launch a capital campaign to raise the balance, Spring said.
The Planning Commission is on target to consider the request at its Aug. 21 meeting, said planner Chris Cheng, although it has not been officially scheduled yet. Once the proposal receives Planning Commission approval, City Council must approve it before Food Gatherers can move ahead. Spring said she hopes construction will begin in the fall and should take six to eight months.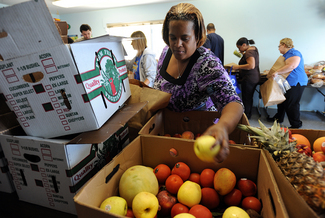 Melanie Maxwell I AnnArbor.com file photo
Most of the addition will accommodate expanded cold and freezer storage space, Spring said. The existing cold/freezer space allows for 32 pallets of storage. The addition would increase that to 264 pallets.
"We have committed to distributing more and more fruits, vegetables and protein, and we have been successful" Spring said. "But we don't have the infrastructure to support it." Some 50 percent of the current food distribution is perishable produce and protein, and needs cooler space. Freezer space is even tighter, with Food Gatherers paying for temporary offsite freezer and dry storage space.
Since 2009, Food Gatherers has increased fruit and vegetable distribution by 72 percent, totaling about 200,000 pounds of produce over the past two growing seasons, Spring said. The increase comes from a number of efforts: the on-site garden, encouraging the community to garden for Food Gatherers, partnerships with local farmers and increased spending on produce and protein.
The addition also will include new space for volunteers, with most of the 22 additional parking spaces planned for them. Volunteer ranks have swelled over the years, with a 19 percent increase between 2010 and 2011. There's been an 82 percent increase in the number of volunteers since the building opened in 2003. There are currently 6,000 volunteers who provide 70 percent of all hours logged at Food Gatherers.
The existing building was designed with an addition in mind, Spring said. Food Gatherers began in 1988 in a former slaughterhouse located at the current site. It was replaced by the current building.
Food Gatherers distributed 5.25 million pounds of food to more than 150 nonprofit programs such as shelters and emergency pantries in 2011.