Posted on
Tue, Jan 3, 2012 : 2:01 p.m.
Missing a puppy? Ann Arbor man hopes to find cute Dachshund's owner
By Cindy Heflin
If you are missing a very cute Dachshund puppy, Mike Jennings wants to talk to you.
Jennings picked up the puppy about 9:30 this morning in a parking lot at the Ann Arbor apartment complex on Catherine Street where he works.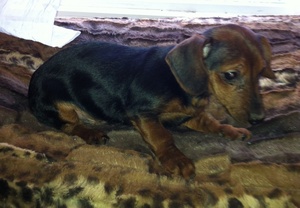 "He was curled up in a little tight ball like he was freezing in the snow," Jennings said. The puppy was shivering but warmed up after about 20 minutes and is now safely ensconced at the home of Jennings' mother, who is a teacher in Ann Arbor and is home during the school break this week.
She has other Dachshunds and he said this one looks to be a purebred puppy.
Jennings said he posted something on the lost pet forum at the website of the Humane Society of Huron Valley and hopes the pup's owner will contact him at 734-323-7152. He also plans to take the puppy to his veterinarian to see if it has a microchip for identification.
If he doesn't find the owner, he's not sure what he will do, but knows of one possibility.
"I think my mother would like to have him. She saw him and just fell in love. She thought I was bringing her a puppy for Christmas or something."