Missing teenager Nathan Tracy found dead in Pittsfield Township
Posted on Sat, Sep 8, 2012 : 2:49 p.m.
The efforts of friends, family, strangers and public safety officials to find Nathan Tracy came to a tragic conclusion Saturday when the teen was found in a pond just south of Ann Arbor.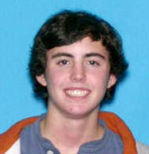 Courtesy of Pittsfield Township police.
Pittsfield Township police said a maintenance worker at Weatherstone Condos on Oak Valley Drive found a person who they believe to be Tracy at about 10:38 a.m. in a retention pond near the entrance to the condo complex.
Investigators spent a few hours at the scene, including a span of about two hours during which they closed Oak Valley to traffic.
While a conclusive identification will be made by Sunday, police said they have notified Tracy's family. They have not determined a cause of death.
Police said Nathan, 19, was headed north around 11:30 p.m. Wednesday on Ranchero Drive near Oak Valley Drive when the Ford Focus he was driving went off the road and crashed into the back of a truck parked in a carport.
Nathan then spoke briefly with a witness before walking away from the accident. Nathan's cellphone was recovered in the car, which was subsequently towed and impounded.
Mishelle Tracy, Nathan's mother, joined family and officials in fearing he was too afraid to turn himself in after fleeing from the car crash.
On Friday, she was among the people searching for him near the scene of the crash. Late in the day, there was some indication that Nathan may have walked from the scene of the crash toward Ann Arbor, but police were unable to confirm that.
Mishelle Tracy said that her son, a second-year engineering student at Henry Ford Community College, drove to Ann Arbor to see friends. He left their Trenton home after a family dinner.