Posted on
Thu, Apr 11, 2013 : 11:45 a.m.
Police: Missing U-M medical school employee found dead from fall
By John Counts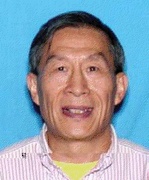 Courtesy of U-M Police
The body of Heping Zhao, the 63-year-old University of Michigan medical school employee reported missing Wednesday, was found by a university staff member at 9 a.m. Thursday, police said.
Zhao was found on the ground in a secluded area between a parking structure and a building in the complex where he worked, at 1170 West Medical Center Drive, said U-M police spokeswoman Diane Brown
The body was found "in a little bit of space between the side of the parking structure and the side of the building" underneath an elevated walkway that connects the structure with the building, Brown said. The walkway is not enclosed.
"It is likely that his cause of death was from a fall," Brown said, adding that police are still investigating where exactly Zhao fell from and also what caused the fall. Police said foul play is not suspected.
Zhao's wife, who reported her husband's disappearance Wednesday, has been notified, Brown said. An autopsy will be performed.
The University of Michigan Health System released a statement Thursday afternoon soon after the discovery of Zhao's body.
"The U-M Medical School community is saddened by the death of Heping Zhao, who had been a valuable staff member in our Department of Medical Education for more than a decade, and played a key role in the education of thousands of health professionals," Kara Gavin, a spokeswoman for UMHS, wrote in the statement. "We extend our deepest condolences to his wife, who has been a volunteer in Medical Education, and to his family, friends and colleagues in the Division of Anatomical Sciences."
The statement goes on to say that Zhao's worked at educating and training medical students. He was an anatomist and was central to the preparation of anatomical specimens for U-M's Plastination Lab. They will continue to be used to teach anatomical concepts at U-M and other institutions, according to the statement.
"In (his) role, and in our anatomy courses for first-year medical students, he worked closely with many future physicians as they learned the intricacies of the human body," Gavin stated. "He created a legacy of learning, and will be greatly missed."
Funeral arrangements are pending.
This story has been updated with comments from UMHS.
John Counts covers cops and courts for AnnArbor.com. He can be reached at johncounts@annarbor.com or you can follow him on Twitter.