Posted on
Sat, Jun 9, 2012 : 5:57 a.m.
Mission Zero Fest offers a free education about green living
By Lisa Carolin
This weekend the Water Hill neighborhood of northwest Ann Arbor, home to a music festival last month, will be home to a green festival called the Mission Zero Fest. It's the second year of the event, which will now feature tours of six homes in the neighborhood, workshops about energy efficiency and sustainable living, music, food carts and more.
Mission Zero Fest gets under way Saturday at 10 a.m. and runs until 6 p.m. and goes from 11 a.m. to 4 p.m. Sunday. The center of activity takes place in the 700 block of Fountain Street, just south of Summit.
"We chose the Water Hill neighborhood because three of our organizers live right on the block, we know a lot of people, and there are a lot of green homes," said Doug Selby, festival organizer and president of Meadowlark Builders.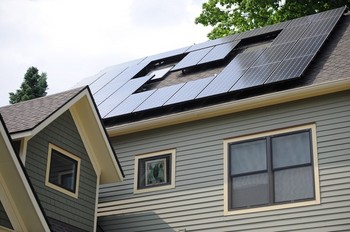 Angela J. Cesere | AnnArbor.com
Last year's debut event attracted about 500 people according to Selby. He says that when some of the houses have sold in the neighborhood, new residents have opted to build the green way. A net zero house is one that produces at least as much energy as it uses.
"We think green building is important," said Kathleen Folger, whose house at 1303 Brook St. is on the tour. "You can hear about ideas, but until you see them in action, it's hard to understand."
Folger's home includes geothermal heating and cooling, high energy efficient windows, a low flow shower head, and dual flush toilets that use as much water as needed. The house was torn down and rebuilt in 2009 except for the chimney and basement, to which foam insulation was added behind the walls.
"Aesthetics are important to us," said Folger. "Energy efficient homes don't have to look any different."
Bob Simons, who along with his wife Susan Theut just moved into the totally remodeled home at 215 W. Summit St. last November, also will have a home on the tour.
"The basic construction of the home insulates and seals and reduces energy costs," said Simons. "We had a vision of a green home even before we bought this house."
"We're a net zero energy home," said Scott Phillips, whose house at 723 Spring St. will also be one on the weekend tour. "It was built new by Meadowlark Builders in 2008. We added solar panels to the roof last August, and our DTE bills have been negative. They buy the electricity back from us."
Phillips says that he loves showing off the 4,000-square-foot home.
"We want to open people's minds," he said.
The Mission Zero Fest is being organized by environmental nonprofit groups including the Ecology Center, League of Conservation Voters, the Clean Energy Coalition, Clean Water Action and the city of Ann Arbor. Admission is free.