Posted on
Thu, May 12, 2011 : 1:13 p.m.
CEO Doug Strong: University of Michigan hospitals already reforming health care
By Juliana Keeping
Depending on who you ask, the federal government's health care reform law:
A. Squashes entrepreneurship, personal freedoms and innovation;
B. Improves the quality access to and efficiency of patient care in flawed system;
C. Other.
Today at the University of Michigan Cardiovascular Center, Mitt Romney, the former Republican governor of Massachusetts, is expected to choose A. He'll blast the reforms spearheaded by President Barack Obama and call for a repeal in advance of a second bid for the White House.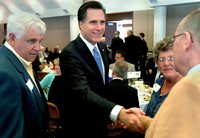 U-M wasted no time detaching itself from the visit
, which it says was organized by the U-M College Republicans.
In advance of the Romney stop Thursday, Douglas Strong, the CEO of University of Michigan Hospitals and Health Centers, didn't comment directly on the expected content of Romney's speech.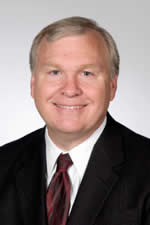 U-M photo
But he understands why Romney would choose U-M for the announcement.
"I think, why not? Speaking at a university where all points of view are to be respected is a good thing," he said.
But he did say the health care reform law isn't making University of Michigan Hospitals do anything they wouldn't try to do anyway. It's sped up the process by which positive changes have occurred, Strong said.
The hospitals want to improve the quality and efficiency of patient care and were striving to do so years before The Affordable Care Act became law in March 2010, Strong said. Successful efforts to save Medicare costs while delivering quality care to the program's beneficiaries became part of the framework of the law, for example, he said.
But Strong acknowledged the financial impact of health care on hospitals is yet unknown.
"Insuring more people (and) taking better care of the citizens of our county state and nation is a very positive thing," Strong said. "There's are troubling aspects to it, which is, how do you pay for it?"
The 2010 law guarantees access to health insurance for millions of Americans via an expansion of Medicaid and subsidized private coverage for middle-and low-income individuals. At the hospitals, there has been no noticeable impact the delivery of care as the changes roll out. That could change in the next year or two.
In 2014, businesses will get to choose whether to offer insurance or have employees receive it from the federal government through entities called health insurance exchanges.
Strong said that upsurge in demand for care an eventual expansion of coverage will bring "is a good thing," but added, "It's not as though we just have doctors and nurses sitting around."
Strong oversees University Hospital, C.S. Mott Children's and Women's Hospital, 30 health centers and 120 outpatient clinics.
The reform law aims to stop health insurance companies from increasing rates. It's good for patients, he said, but will impact hospitals' bottom lines.
University of Michigan hospitals take in about $2 billion a year, Strong said.
Just under half of that are reimbursements from the federal government via Medicaid and Medicare. Strong said hospitals lose money due to the mechanism by which the cash-strapped state or federal government chooses to repay hospitals for services via these programs. Hospitals currently make up for the loss via payments from commercial insurance plans.
Juliana Keeping covers general assignment and health and the environment for AnnArbor.com. Reach her at julianakeeping@annarbor.com or 734-623-2528. Follow Juliana Keeping on Twitter