Posted on
Tue, Jan 17, 2012 : 5:57 a.m.
MLK Day forum emphasizes 'all hands on deck' to close nationwide achievement gap among blacks
By Danielle Arndt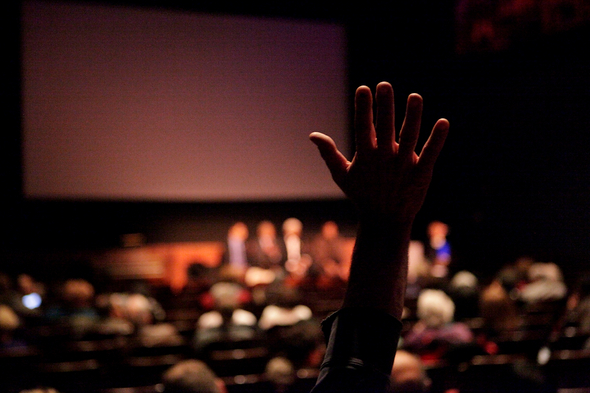 Chris Asadian | AnnArbor.com
Monday's
Achievement Gap Forum
, co-hosted by the NAACP and Ann Arbor Links, highlighted adult mentors, multi-level intervention and an emphasis on cultural strengths as important keys to solving the performance and graduation rate issues among black males.
Another item of importance?
"Don't just wait until (Martin Luther King Jr.) Day or until February (Black History Month) to encourage them to recognize the positive contributions of their race," said panelist Larry Rowley, a professor with the University of Michigan.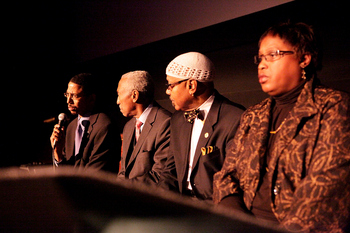 Chris Asadian | AnnArbor.com
Nearly every seat in the
Michigan Theatre
screening room in Ann Arbor was filled for a showing of "
Beyond the Bricks
," which took place prior to the guest panel discussion.
The panelists praised the accuracy of the film in depicting the realities that so many black boys are facing, including staggering national statistics, such as:
8.4 percent of black males are enrolled in gifted and talented programs, while a disproportionate number are misidentified for special education services.
Black students make up 17 percent of all public school students yet account for 32 percent of suspensions and 30 percent of expulsions.
53 percent of black males drop out of school.
Just 2 percent of 4.8 million teachers in the United States are black males.
Black males are 700 percent more likely than whites to be given a jail sentence.
45 percent of African American adolescents are living below the national poverty line.
60 percent of African American youth grow up without a father at home.
36,000 African Americans are removed from their homes each year by social services.
Rowley said the nation needs "all hands on deck" to address these issues, all of which affect student achievement.
"Quite simply, we already know how to close the achievement gap," he said. "We already have the tools. … The real problem is we don't always have the political will to design the policies."
He said like the video stressed, the schools, community, home, social service organizations, local government and court systems all must work together.
"Beyond the Bricks," released in 2010, addressed the pressure African Americans, especially males, encounter to "act black" and to emulate black rappers and other pop culture icons. Many in the documentary spoke about how they hid their smarts and a desire to learn while in school.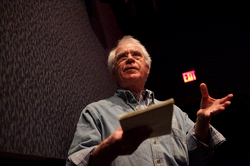 Chris Asadian | AnnArbor.com
Rowley said mentoring programs with successful black males at the helm help youth to disregard negative stereotypes and to embrace the strengths surrounding their culture.
Glenn Nelson, a trustee with the Ann Arbor Public Schools Board of Education, asked about the tension that seems to exist between trying to empower African American students and trying to establish policies to address the gap.
Panelist and state Rep. David Rutledge, D-Superior Township, said the tension is real.
"It's a balance. … We can't be so involved with talking about the achievement gap that we make students feel somehow inferior," Rutledge said.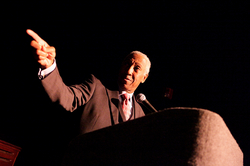 Chris Asadian | AnnArbor.com
"The other thing at the policy-making level that you start thinking about is how closing the gap may be at the expense of students that are truly gifted," he added. "And neither one is productive. Those (gifted) students ought to be allowed to excel."
Fellow panelist Patricia Douglass Jenkins, a teacher at Skyline High School, said part of empowering students stems from developing relationships with them and knowing when to call the parents and when not to.
Also, she said teachers are human and need to be aware of their own biases in teaching. She added students of various cultures have different learning styles. Helping students succeed means becoming a better teacher and adjusting the way lessons are taught, Jenkins said.
She also touted recent legislation that changed how tenured teachers are being held accountable.
"I do have serious issues with how we (as educators) are being measured, but I do believe in that accountability piece. … I hope it helps to close the gap in some regard," she said.
Monday's Achievement Gap Forum was the second of three to be conducted by the Ann Arbor chapter of The Links and the National Association for the Advancement of Colored People. The final discussion will be in May.
Joyce Hunter, the event's moderator, said it is important to remember every child can learn. These forums are a "call to action," she said. Organizers are hopeful the discussions will help the community develop a comprehensive plan for closing the gap.
Staff reporter Danielle Arndt covers K-12 education for AnnArbor.com. Follow her on Twitter @DanielleArndt or email her at daniellearndt@annarbor.com.