Posted on
Sat, Jan 9, 2010 : 6:39 p.m.
Mochitsuki festival celebrating Japanese new year draws big crowd at U-M
By Erica Hobbs
More than 600 people came out Saturday afternoon for the University of Michigan Center for Japanese Studies' annual Mochitsuki festival, celebrating the Japanese New Year.
"I'm sure we broke a record this year," organizer Jane Ozanich said. "People come from as far away as Lansing, Battle Creek, Ohio and north of Detroit."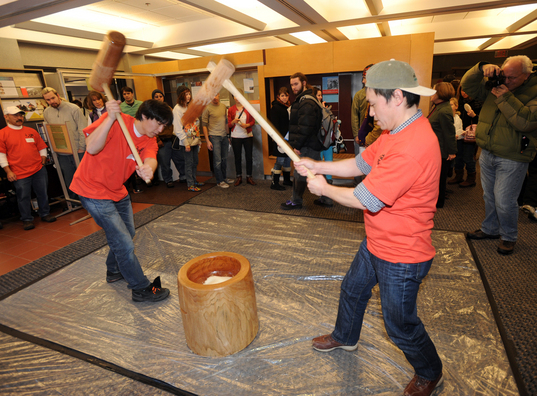 Lon Horwedel | AnnArbor.com
Filling up every corner of the first floor of U-M's School of Social Work Building, the festival included a range of activities representing different aspects of Japanese culture. Activities included kakizome (calligraphy), manga-drawing (cartoon characters) and kamishibai (children's story-telling).
But the main event of the afternoon was the actual motchisuki, the process of making mochi, a dough-like substance made of glutinous rice.

"It's a festive thing," Japanese studies student Josh Schlachet said. "It's usually a community festival."
In traditional Japanese culture, families and communities gather in December to make the mochi in preparation for New Year's Day, which Ozanich said is Japan's biggest holiday of the year.
The process involves soaking the rice overnight and steaming it, then pounding the rice with a wooden mallet called a kine in an usu, a mortar made from a wooden stump or stone.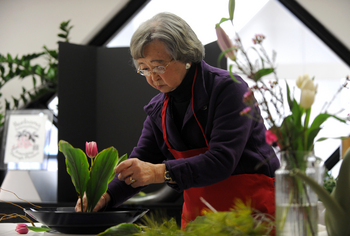 Lon Horwedel | AnnArbor.com
The substance is then placed on a table and separated into small balls, which are prepared with different flavorings to eat.
Some visitors familiar with Japanese culture said the traditional method of making mochi is not as prevalent in Japan as it used to be. But Farmington resident Betty Mizutani, whose husband is Japanese, said she was glad her 4-year-old daughter had the chance to see the process.
"It gives her a chance to celebrate New Year's in Japanese tradition," she said. "It is something she'd probably not be able to experience on her own."
There were also demonstrations in ikebana, the art of Japanese flower arrangement, and raion taiko, Japanese drums, both new to this year's event.
Dressed in a red, wool-silk kimono, Japan native Wakako Maeda said the 600-year-old tradition focuses on balance and the use of negative space in flower arrangement. She said the festival as a whole came quite close to representing Japan's culture and was a great example of people from different backgrounds coming together.
"All kinds of nationalities were helping with this event," she said. "I thought it was very wonderful."
Erica Hobbs can be reached at ericahobbs@annarbor.com.