Posted on
Mon, May 13, 2013 : 6:22 p.m.
Monday morning chill sets new record low in Ann Arbor
By Cindy Heflin
If the Monday morning chill made you think this must have been the coldest May 13 ever in Ann Arbor, you were right.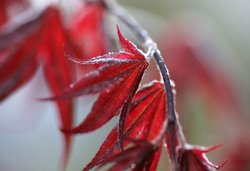 MLive file photo
The low of 28 broke the old record low set in 1996 by one degree, said
University of Michigan
weather observer
Dennis Kahlbaum
. It also set a new record for a temperature that low so late in the spring, Kahlbaum said. The previous record was 27 on May 11, 1907.
The average date for a temperature at or below 32 degrees is April 30. The latest date at which the temperature fell below 32 was May 29, 1884, when the thermometer dipped to 30 degrees, Kahlbaum said.
Luckily, no such weather is on the horizon for the next few days in the Ann Arbor area. After an overnight low of about 40 Monday night, temperatures will begin climbing on Tuesday. An afternoon high of about 65 is expected. It will be mostly cloudy with showers likely in the morning.
A serious warmup is in store for Wednesday, when the high is expected to hit 81 degrees. It will be mostly sunny in the afternoon with a chance of showers and thunderstorms before noon.
For the rest of the week, we can expect highs in the low to mid-70s and lows in the 50s. After Wednesday, the next chance for rain is Saturday.
For updated updated forecasts and conditions anytime, check AnnArbor.com's weather page.