Money, items stolen from Ann Arbor Boy Scout troop attending camp
Posted on Wed, Jul 25, 2012 : 1:17 p.m.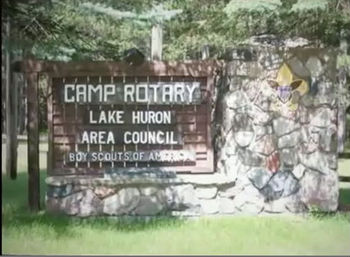 From a Camp Rotary promotional video on the Lake Huron Area Council's website
Cash and other personal belongings were stolen Sunday from the tents of Ann Arbor's Boy Scout Troop 5 at Camp Rotary in mid-Michigan while the scouts were taking a swim test Sunday.
A suspect or suspects took money from the scout's wallets, as well as a camera and coins a scout was collecting to earn a merit badge, said Scoutmaster Ken Dixon.
"We're talking four figures when all is said and done," Dixon said when asked a dollar amount of how much was stolen.
Sunday was check-in day at the camp, located just north of Clare. Dozens of troops and hundreds of scouts from all over the state are currently at the camp, but the Ann Arbor troop, which has about 30 boys, lost the greatest amount of money and property.
"We got hit the hardest," Dixon said, adding that the tents of another troop nearby also were rifled through.
There are about 15 tents per campsite for a troop. Almost all of Troop 5's tents had something missing from them.
The incident was reported to the Clare County Sheriff's Department, which said on Wednesday that the Boy Scout organization is now handling the matter internally.
A fellow scout may not necessarily be to blame. Dixon said there is no fence around the large camp and someone who knows the area well could have easily slipped in.
"It could have been someone from the outside," said Dixon. "They haven't solved it."
Brad Murray, the executive director of Camp Rotary, issued a statement expressing his dismay at the incident.
"We are disappointed by this type of behavior that does not represent the values of the Boy Scouts of America and hope that the missing items are promptly returned," Murray said. "This type of behavior runs counter to everything for which the Boy Scouts of America stands."
Dixon said his scouts are staying positive after the ordeal. They are staying until Saturday at the camp, where they will continue activities like climbing, rope courses, pioneering and citizenship projects.
"They are having a good time," Dixon said. "They have expressed a concern to help out this person."