Posted on
Tue, Jan 22, 2013 : 1:34 p.m.
More bitter cold, snow ahead for Ann Arbor area
By Cindy Heflin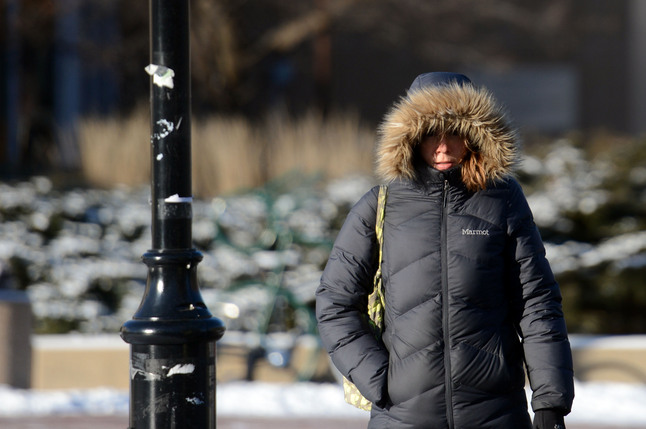 Melanie Maxwell | AnnArbor.com
With the temperature hovering near zero Tuesday morning, Jill Carlson was hustling along Main Street in Ann Arbor on her way to a class at the University of Michigan.
"It's very cold," she said. To blunt the effect of wind that made below-zero temperatures feel even worse, she bent her head downward as she walked. "I'm just hoping I won't run into anything," she said.
Carlson had plenty of time to feel the effect of temperatures that dipped to 7 below zero in some parts of Ann Arbor Tuesday morning on her 30-minute walk to campus, where she is a graduate student in the School of Natural Resources.
University of Michigan weather observer Dennis Kahlbaum recorded a temperature of 3 below at 7 a.m. at his weather station on North Campus Tuesday morning, nowhere near the record of 19 below zero for this date, set in 1883. He said the temperature might have dipped a bit lower than 3 below after 7 a.m. A temperature of 7 below was recorded at the Ann Arbor Airport on the southeast side of the city. Saline recorded a temperature of 10 below, he said.
By 1 p.m., the temperature had climbed to 6 degrees at the Ann Arbor Airport, but with the wind-chill factored in, it felt like 8 below zero. A wind-chill advisory in effect for the morning expired at 1, but the forecast for the rest of the day in the Ann Arbor area still called for wind-chill values as low as 10 below zero and a high of about 9 degrees. Snow showers are possible, too.
Tuesday night, there's a chance of snow showers before 8 p.m., then a chance for flurries, and then a chance of snow showers again after 5 a.m. It will be mostly cloudy, with a low around 5. Wind chill values will be as low as 9 below zero.
It will be mostly cloudy with a high of about 18 Wednesday, but winds will make it feel as cold as 9 below zero. Snow showers are likely. The chance of precipitation is 60 percent, but snow accumulation should be less than 1 inch, the National Weather Service said.
Wednesday night, the low will dip to about 4 degrees, the National Weather Service said. But the wind will still be a factor, pushing wind-chill values as low as minus 7. West wind 8 to 14 mph, with gusts as high as 20 mph. Chance of precipitation is 30 percent.
Thursday, it will be mostly sunny, with a high near 20. Winds will die down.
Snow is back in the forecast Thursday night with a possible accumulation of 1 to 2 inches. Another inch could fall Friday, the weather service said. The chance of precipitation is 60 percent.
Whatever the weather, Carlson will take it in stride. Tuesday she had suited up with leggings, two pairs of socks, a shirt, sweater and jacket, plus a hat and gloves.
"I like the snow," she said. "I only recently moved to Ann Arbor, so I guess maybe I'm just trying to embrace it."
For updated forecasts and conditions any time, check Annarbor.com's weather page.