Posted on
Mon, Jul 25, 2011 : 4:10 p.m.
5,000 signatures collected during Ann Arbor Art Fair to recall Gov. Rick Snyder, organizers say
By Ryan J. Stanton
Washtenaw County supporters of the campaign to recall Michigan Gov. Rick Snyder are reporting they collected more than 5,000 signatures during the Ann Arbor Art Fair.
Brit Satchwell, president of the Ann Arbor Education Association and one of the organizers of the effort, said the goal was to collect 4,000 to 5,000 signatures over four days, so the 150 volunteers who came out for Art Fair more than accomplished their mission.
"I've done a rough count. It's definitely more than 5,000," Satchwell said Monday afternoon.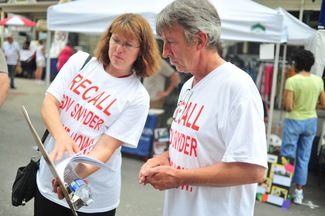 Ryan J. Stanton | AnnArbor.com
The group needs to collect about 807,000 valid signatures by Aug. 5 to put the question of recalling Snyder to voters in November. Knowing that a good number of signatures likely will be ruled invalid, the group is shooting for 1.1 million to be safe.
The Detroit News reported today that the statewide committee working to recall Snyder has fired its media spokesman and it may not collect enough signatures to put the issue on the November ballot. A February 2012 ballot would be the next option.
Meanwhile, the Detroit Free Press is reporting that the recall effort has so far raised less than $25,000.
In addition to the recall campaign, volunteers were out during Art Fair collecting signatures to repeal Michigan's emergency manager law. Organizers estimate about the same number of signatures were collected for both petitions during the festival.
Satchwell said putting the repeal of the emergency manager law to a vote of the people in November 2012 will take nearly 162,000 signatures and that's no problem.
"I hope to get another 2,000 signatures tomorrow with the University of Michigan nurses," he said. "They're all meeting in one place. We're going to do an all-day event with six tables."
A Snyder spokeswoman last week commented on the recall effort hitting the Art Fair, saying, "Ann Arbor wouldn't be Ann Arbor without some kind of effort like this."
Satchwell fired back today, saying it's "not just an Ann Arbor thing." He said signatures were collected during Art Fair from voters hailing from all but two of Michigan's 83 counties.
"Our signatures come from all over Michigan," he said, also noting a recent poll conducted by EPIC/MRA found a majority of Michigan voters would vote to repeal the state's emergency manager law, known as Public Act 4, if given the chance.
Once a recall petition is certified in Michigan, supporters have 180 days to turn in the required number of signatures. But no signature can be more than 90 days old at the date the petitions are turned in, so the 90-day window is a moving target.
The Snyder recall petition was approved April 29 by the Washtenaw County Election Commission. The recall committee has said it began collecting signatures May 21, meaning it could extend the campaign to about Aug. 18 and remain inside the original 90-day window.
But that pushes the recall back to the February ballot. And for every day the campaign goes beyond the original 90-day window, signatures collected at the start of the campaign become invalid because they're more than 90 days old at that point.
Editor's note: An update was added from a Detroit Free Press story on fundraising by the recall campaign.
Ryan J. Stanton covers government and politics for AnnArbor.com. Reach him at ryanstanton@annarbor.com or 734-623-2529. You also can follow him on Twitter or subscribe to AnnArbor.com's e-mail newsletters.