Posted on
Sun, Apr 25, 2010 : 4:31 p.m.
More than 7,000 bicycles on display at Ann Arbor Bicycle Show & Swap Meet
By Dave Gershman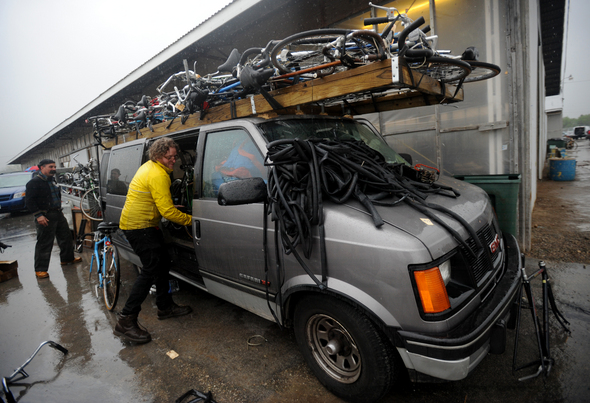 Melanie Maxwell | AnnArbor.com
Every ding and dent told a story.
There was the time Steve Errick's father, Dave, got hit by a car. There was the time he was on the bike and got nabbed sneaking into a junkyard.
This red, streamlined 1955 Schwinn Phantom bicycle once bore the bruises of Dave's childhood exploits. Now lovingly restored, it was one of the classics on display at the Ann Arbor Bicycle Show & Swap Meet, held at the Washtenaw Farm Council Grounds Sunday.
Steve Errick, who proudly brought the bike to the show, recalled thinking "it was kind of dorky" when his father began restoring it in the 1990s.
He had a change of heart. A few years ago, he got the bike from his father as a Christmas gift. As he went about finishing the bike's restoration, he grew closer with his father.
"I never truly got it until I was older," Errick said.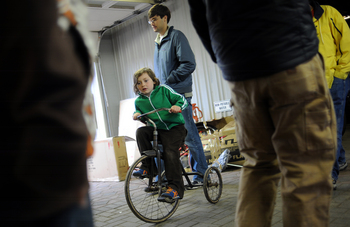 Melanie Maxwell | AnnArbor.com
The Ann Arbor Bicycle Show & Swap Meet, now in its 30th year, featured more than 7,000 bikes on display or for sale, as well as judged exhibitions and an auction. An array of bicycle parts and products also were for sale.
John Raeside, 51, of Clinton Township, had just purchased a brand new, state-of-the-art carbon fiber frame for a road bike, which he had slung over his shoulder, when he was mesmerized by a 1974 steel-framed Schwinn.
"My first 10 speed when I was a kid," Raeside said. "Schwinn Continental. Sky blue."
Raeside, who raced bicycles as a teenager, counts more than 100 in his collection. He was buying and selling them at the show.
"It's an addiction," Denny Norman said of the collectors, though his addiction is being in the bike business. He combs thrift shops in Macomb County for older bicycles for his Centerline store, East Side Bike Shop.
"At 14 you stop at a bike shop to buy some parts and they give you a job, and 50 years later, you're still doing it," Norman said.
Barbara Hoffman, 66, of Vicksburg, Mich., celebrated her 46th wedding anniversary with her husband, John, with a trip to the show. Barbara is an enthusiast, but John is the collector, filling the couple's basement with a hundred bicycles.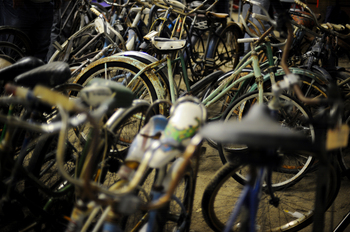 Melanie Maxwell | AnnArbor.com
"Do you think maybe it's what they wanted when they were kids," and couldn't have?" she asked, thinking of what drives people to collect so many bicycles. Her husband grew up poor and couldn't afford the bikes that are now considered classics.
"He was a poor kid. I think it's if I (had been) rich, I would have had that bike," she said.
The Midwest was once the center of American bicycle production, and the show featured some of the bicycles that were locally made.
"They were pretty well built bikes," said Sam Fitzsimmons, 60, who brought an AMC Special to sell at the show.
Fitzsimmons' store in Baltimore specializes in hard-to-find bicycles like the Special, which was built in Flint in the 1890s. "Back then, around 1900, bikes were not cheap."
Tim Ross, 45, of the Louisville, Ky., area, paid $200 for the bike. It looked its age, though it still had its original wooden wheel frames and chain guard.
His plan for the piece?
"Sit in my living room and look at it," he said. "My wife's probably going to shoot me when I come home."
Dave Gershman is a freelance writer for AnnArbor.com. Reach the news desk at news@annarbor.com or 734-623-2530.