Posted on
Tue, Feb 26, 2013 : 12:26 p.m.
Morning car fire causes hour-long back up on northbound US-23
By Kyle Feldscher
This story has been changed to reflect it was northbound US-23, not southbound as originally reported.
Flames covered a flatbed truck appearing to contain bales of hay on southbound US-23 Tuesday morning, shutting down one lane and causing traffic to stop for nearly an hour.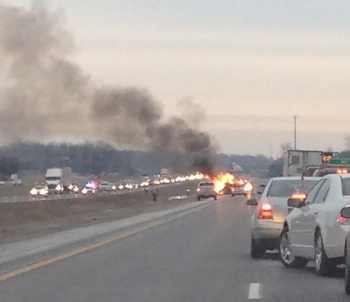 Courtesy of Angel Offredi
Angel Offredi was stuck about 10 cars behind the burning truck at 7:45 a.m. Tuesday morning on northbound US-23, just north of Silver Lake Road. Offredi said approximately three fire trucks responded and police vehicles, but she didn't see any ambulances.
"It must have just happened right before I arrived," Offredi said. "When I was going by slowly after they opened the road, it looked like a flatbed full of hay."
Green Oak Township police and fire personnel were not immediately able to speak to AnnArbor.com about the fire Tuesday morning. Michigan State Police directed questions about the incident to Green Oak Township.
It's unknown what caused the fire and if anyone was injured in the blaze.
Kyle Feldscher covers cops and courts for AnnArbor.com. He can be reached at kylefeldscher@annarbor.com or you can follow him on Twitter.