Posted on
Mon, Aug 15, 2011 : 11:11 a.m.
Most Washtenaw County schools meet Adequate Yearly Progress; see if your school is one of them
By Kyle Feldscher
Related story: 8 of 9 charter schools in Washtenaw County meet Adequate Yearly Progress standards
The majority of Washtenaw County schools were given an "A" grade and met the federal government's Adequate Yearly Progress standard even though fewer schools statewide met those benchmarks in 2010-11, according to statistics released Monday.
In Ann Arbor Public Schools, three of the district's 33 school buildings — Skyline High School, Ann Arbor Technical High School (formerly Stone High School) and Roberto Clemente Student Development Center — failed to meet AYP, a measurement used by the federal government in No Child Left Behind to determine how a school is performing annually on standardized test scores.
All of the schools in the Chelsea School District, Dexter Community Schools, Manchester Community Schools and Whitmore Lake Public Schools met AYP standards for the 2010-11 school year.
State school Superintendent Mike Flanagan said in a statement that fewer schools met AYP standards this year because proficiency targets set by the federal government were increased. He said the number of schools meeting AYP will probably continue to decrease in the coming years as "cut scores,'' meaning the score students need to reach on the Michigan Educational Assessment Program and Michigan Merit Exam to be considered proficient, will rise.
""We must continue to set high expectations for our schools so our students are prepared for the competitive global economy," Flanagan said in a statement. "But we need an accurate and honest reflection of where our schools are in preparing our students."
According to state statistics, 79 percent of Michigan schools and 93 percent of Michigan school districts made AYP in 2010-11, down from 86 percent of schools and 95 percent of districts in 2009-10. The federal government has mandated that 100 percent of schools and districts meet AYP by the 2013-14 school year and Michigan is one of several states that has filed for a waiver from the mandate.
All schools in Michigan received accreditation, according to department documents.
To view school report card data for any school in the state, click here.
A chart of county schools showing state report card grades and AYP status for 2010-11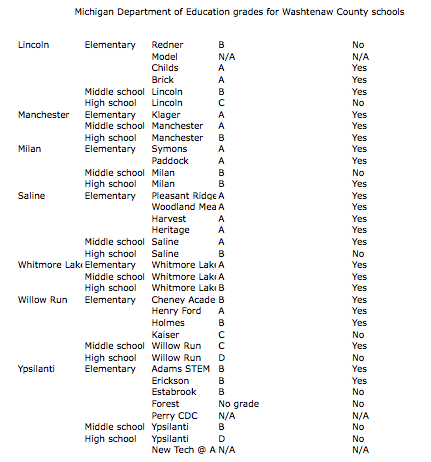 A chart of county schools showing state report card grades and AYP status for 2010-11
Kyle Feldscher covers K-12 education for AnnArbor.com. He can be reached at kylefeldscher@annarbor.com or you can follow him on Twitter.