Posted on
Wed, Oct 31, 2012 : 6:15 p.m.
Freeway shootings: Motorist stopped on U.S. 23 accuses officer of mistreating him
By AnnArbor.com Staff
A man who was stopped on U.S. 23 in Livingston County, likely as part of the investigation into the I-96 corridor shootings, said a Michigan State Police trooper approached him with her gun drawn and threatened to shoot and kill him if he didn't cooperate, MLive reported.
Courtney Sacco | AnnArbor.com
Kim Sachs
, 56, of Freeland, said he was stopped about 10 a.m. Monday on U.S. 23 south of Interstate 96. That was during the time police were
investigating an incident
first reported to be part of a series of recent shootings along the I-96 corridor. Police now say it was probably a rock that put a hole in the window of a woman's car as she drove on U.S. 23.
Sachs said the officer frisked him and searched his car, "making a complete mess." Another trooper arrived as backup while Sachs kept his hands on the trunk, he said.
"She brought tears to my eyes," Sachs said of his treatment at the first trooper's hands. "When she was done, she said, 'Thanks for being a good sport, now buckle up and drive safe.' Three times she threatened to shoot and kill me."
MLive reported it was unable to reach the Brighton Post of the Michigan State Police for comment.
Police have formed a task force to investigate a string of at least 24 shootings in the area along I-96. They said Wednesday they have received more than 2,200 tips. They are offering a reward of $102,000.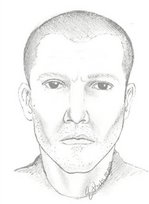 AP photo
A West Michigan man was shot in the buttocks Saturday while driving to Detroit along I-96 in Livingston County. He is the only person wounded so far, but the suspect is believed to be shooting at people — not just their vehicles, Oakland County Sheriff Michael Bouchard told The Associated Press Tuesday.
The FBI and ATF announced on Monday that they, along with Crime Stoppers are offering a $102,000 reward for information leading to the arrest and conviction of a suspect in the string of shooting incidents.
Click on the markers in the interactive map below to see when, where and how many shootings occurred at each location.


View I-96 Corridor Shootings in a full screen map