Posted on
Mon, Feb 4, 2013 : 5:35 p.m.
Multiple injuries reported in 3-car crash on Geddes Road
By John Counts
Courtney Sacco I AnnArbor.com
Update: Eleven injured in 3-car crash after Ford-150 crosses centerline
This story has been updated with additional information from HVA.
Eleven people reportedly were injured in a three-vehicle accident Monday evening on Geddes Road between LeForge and Prospect in Superior Township, authorities said.
Joyce Williams with Huron Valley Ambulance said a minivan, an SUV and a truck were involved in the accident, which responders were called to at 5:05 p.m.
A vehicle on fire was brought under control rather quickly, Williams said. One person was trapped inside a vehicle. Crews had the person out and transported to St. Joseph Mercy Hospital in unstable condition at 6:36 p.m., Williams said.
Three other patients were taken to St. Joe's, two in critical condition, the other in stable condition. Seven additional patients were being taken to both U-M Hospital and C.S. Mott Children's Hospital, though Williams could not immediately confirm how many were children.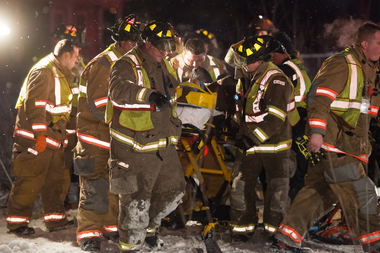 Courtney Sacco I AnnArbor.com
Geddes Road between LeForge and Prospect was closed as authorities responded to the crash, said Derrick Jackson of the Washtenaw County Sheriff's Office. Parts of LeForge also were closed. The roads were expected to reopen by 8 p.m.
Ann Arbor woman Kyle Norris was driving in the area at the time. She didn't witness the accident, but was on the scene moments later. She said she walked closer to the scene of the accident and saw "a car flipped over with smoke coming out of it."
Norris said the SUV was on its back and there was a person trapped inside. A man and a child seemed to have escaped from the SUV, she added.
The pick-up truck was occupied by a man and the minivan by a woman and several children, Norris said.
Fire departments from Ann Arbor and Superior townships, the sheriff's office and HVA all responded to the accident.
John Counts covers cops and courts for AnnArbor.com. He can be reached at johncounts@annarbor.com or you can follow him on Twitter.