Posted on
Wed, Jan 6, 2010 : 4:40 p.m.
Near North affordable housing project gets $500,000 commitment from Ann Arbor DDA
By Ryan J. Stanton
A 39-unit affordable housing project received a $500,000 boost from the Ann Arbor Downtown Development Authority's governing board this afternoon.
DDA officials agreed to contribute funding toward Avalon Housing's construction of the Near North apartment complex on 1.19 acres at 626-724 North Main St.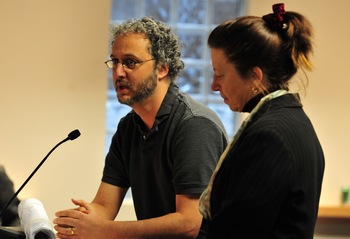 Ryan J. Stanton | AnnArbor.com
In a resolution of support, the board stated the DDA is committed to participating in projects that stimulate new, converted, or renovated housing with the goal of a "diverse and vibrant downtown residential base."
Avalon, a nonprofit housing corporation, is developing Near North with its for-profit partner, Three Oaks, as a mixed-use development. It will provide 25 apartments affordable to households with low incomes and 14 supportive housing apartments with project-based Section 8 rent subsidies.
Michael Appel, Avalon's executive director, said the partners plan to develop the project in two phases. The first includes the residential units and 1,800 square feet of offices. Phase II, contingent on greenway and related funding, involves acquisition and demolition of Summit Market and three houses in the floodway on East Summit Street, as well as relocation of the retail into new space built at Near North.
Appel said Avalon Housing is seeking HOME funds through the city and plans to apply for tax credit funding through the state by the end of February.
DDA officials said Near North technically will be outside the authority's jurisdiction, but the 39 new housing units are within the quarter-mile radius of the DDA-approved district within which it might provide DDA Housing Fund support. Many tenants who will reside in the apartments also will likely work, shop, or use the downtown for other purposes, officials said. The deal reached with Avalon today stipulates the DDA will provide $400,000 with an additional $50,000 if the project receives a Silver LEED certification - or an additional $100,000 if the project receives a Gold LEED certification.
The rating system for LEED - Leadership in Energy & Environmental Design - is a voluntary, consensus-based standard to support and certify green building design, construction and operations.
The DDA plans to provide the grant at the time the project receives its certificate of occupancy.
The total cost of the Near North project, including property acquisition, is $11 million. In addition to the DDA, Avalon is seeking funds from tax credits, the Michigan State Housing Development Authority and other sources.
DDA board member Sandi Smith, who also sits on the Ann Arbor City Council, called the DDA's support for the project a continuation of the city's search for units to fill some of the gaps left after 100 affordable housing units were lost when the old YMCA building downtown was demolished.
"These are far better units in that they do have supportive housing services," she said, "and so this is 14 in our tally."
Ryan J. Stanton covers government for AnnArbor.com. Reach him at ryanstanton@annarbor.com or 734-623-2529.