Posted on
Sat, Dec 17, 2011 : 5:51 a.m.
Water Hill neighborhood in Ann Arbor pulls together to try to save tree
By Janet Miller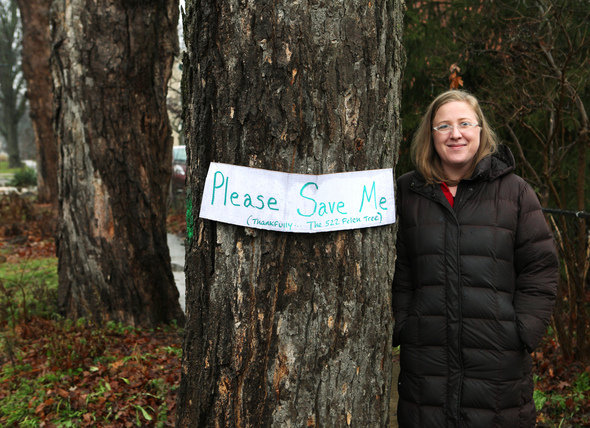 Jeff Sainlar I AnnArbor.com
The Water Hill neighborhood just northwest of downtown Ann Arbor rallied this week to try and save a 60-year-old sugar maple tree on city-owned land between the sidewalk and the street. The city had ordered the tree cut down because much of its root system had been severed when a water line was repaired 16 months ago.
Mayor John Hieftje issued a temporary stay on cutting down the maple on Felch Street after more than 25 neighbors contacted him last weekend and early this week, asking him to save the tree. Hieftje said cutting the tree down was placed on hold while more information is gathered.
Eril Andes and husband Rod Morson have spent many summer days with their three children on their front yard, lounging and playing under the abundant shade provided by the tree.
So when an employee from a Flint-based tree service knocked on her door late last week to tell her to stay clear of the Dec. 14 tree-cutting, Andes was shocked. And more than a little angry. It was the first she had heard about the the tree being cut down.
"I was a little passionate," she said. "I think I scared him, at least as much as a lady holding a baby can scare a guy."
Within 15 minutes, Andes said, city forester Kay Sicheneder was at her door, telling her the tree was a potential threat, especially in an ice storm or 60-mph winds, because its root system had been compromised. Workers damaged the root system, removing large sections of it, when the water line between Andes' house and the street was replaced.
In an email, Sicheneder said the roots were severed close to the trunk, removing all the support on the east side of the tree, leaving it structurally unsound. "The potential for serious damage or injury cannot be disregarded," she said.
Andes wanted a second opinion and asked Alex Sulzer, on the University of Michigan landscape architecture staff, to take a look. After inspecting the tree, he said it looked healthy, but after seeing the root damage in the picture, he told Andes he sided with the city's call, Andes said.
Photo courtesy of City of Ann Arbor
Sicheneder had taken pictures of the water line work as it was being done, documenting the root destruction.
But the hole was covered and today the tree appears perfectly healthy, Andes said. In fact, it's more robust looking than an adjacent tree, on a neighbor's property, that is partially rotted, seeping sap and has dead branches. "We've gone through two entire leaf cycles and it appears healthy," Andes said. "There's no dead wood, no dead branches, no big limbs that have fallen down."
An email alert was fanned out Sunday night to neighbors in the Water Hill neighborhood, bounded by Miller, Brooks, Sunset and the railroad tracks, said John Beeson, a neighbor who sent the email out.
The neighborhood had come together to respond to changes in the city's rules regarding pedestrian crosswalks, he said. Neighbors also came together last spring to create the Water Hill moniker and host the Water Hill Music Festival, where neighbors took to their porches to perform music.
Andes said she understands the city's concern about potential liability. "But, of course, I don't want to believe them. I want to believe it's a healthy tree," she said. "There are many trees in the city that could fall down in an ice storm or in 60-mph winds."
Hieftje said he granted a permanent stay on the tree cutting. "Nothing's going to happen until the facts are resolved," he said. "We need to get a second opinion. Working to see if there's a way to save the tree is our goal."