Posted on
Sun, Jun 30, 2013 : 5:59 a.m.
Sending out an SOS: Neighborhood group wants city to address speeding on Seventh Street
By Ryan J. Stanton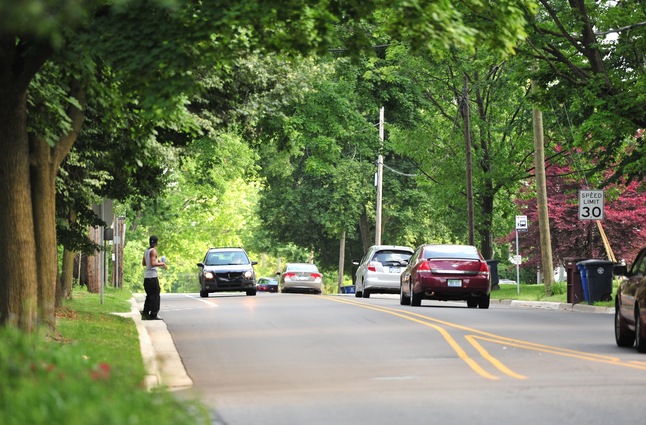 Ryan J. Stanton | AnnArbor.com
Since moving to
Ann Arbor
from his home state of Alabama four years ago,
Chris Hewett
says one thing has consistently disappointed him: the level of aggressive driving here.
"I love Ann Arbor, but I've never seen the level of aggressive driving I've seen here anywhere else," he said. "You know, I can't turn in my driveway without someone having road rage and honking their horn and cussing at me. I mean, how dare I hold them up for three seconds, you know?"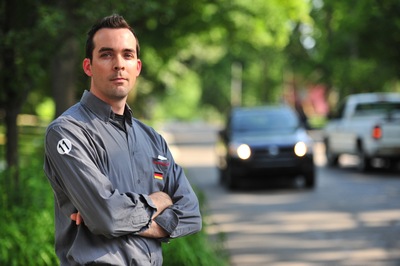 Ryan J. Stanton | AnnArbor.com
Hewett, who lives with his wife on Seventh Street on Ann Arbor's
Old West Side
, believes the problem is particularly bad on his street.
He's spent months gathering videos and photos to document the speeding and aggressive driving that happens on Seventh Street — a major north-south artery that cuts through a residential neighborhood. And in early April, he launched a Facebook page for a new group called SOS: Safety on Seventh, where all of that evidence and documentation has found a home.
Several other neighbors have joined the cause, and they're now sending out an SOS to city hall, hoping city leaders will address their concerns.
"Working with the city, we hope to initiate some speed-calming initiatives here on Seventh," said Hewett, who is particularly concerned about the stretch from Pauline to Liberty.
"What I would really like to see would be reduced speed limits at 20-25 mph, maybe narrowed lanes, and of course pedestrian crossings to make it safe for kids to cross and things like that."
Ann Arbor officials say they hear the group loud and clear and they're now looking to see what can be done, but options might be limited.
'It's like a racetrack'
Hewett can be seen many days standing out by the street with a radar gun, regularly clocking speeding motorists going 45-50 mph where the posted limit is 30 mph.
"It's like a racetrack," he said during a recent afternoon rush hour.
However, a recent traffic study done by the city showed about 9,000 cars per day traveling on Seventh Street at an average speed of 26-27 mph. Some neighbors argued that figure seems too low and doesn't reflect what they're witnessing during rush hour traffic.
Pat Cawley, a city traffic engineer, said the counters were placed about 200 feet from the Madison Street intersection, and that might have had a minor effect on overall speeds. While the average speed was about 26-27 mph, the 85th percentile speed was around 35 mph, maximum speeds reached 54 mph, and several motorists were clocked going above 40 mph.
"We will meet with the residents to discuss issues on the street shortly," he said. "We recognize they feel speeds are too fast and we will look at ways to calm speeds, but given it is a major roadway, we are limited in the tools that are available."
Screenshot from Facebook
Hewett's Facebook posts — often featuring photos of his radar readouts — have shown examples of excessive speeding, students having trouble crossing the street, at least one aggressive driver veering into oncoming traffic to get around another car, and damage to two street trees from a crash in November. He said a telephone pole also was struck and had to be replaced.
City police said there were 13 vehicle accidents reported along the stretch of Seventh Street from Washington to Pauline from June 1, 2012, to June 1, 2013, though there were no reported accidents involving pedestrians.
Hewett recalled one accident where a car crashed through someone's front porch. Just earlier this week, he said, another car ran a cyclist off the road, causing minor injuries.
"We see so many close calls — something's going to happen at some point," he said. "We just want to try to avoid that if we can and make it a safer area."
Eli Cooper, the city's transportation program manager, observed that Seventh Street is a major collector street that goes from the northern third of the city to the southern third of the city.
"It's primarily a residential road, but it connects many pieces of the transportation network, and that's why drivers use it more than a local residential street," he said.
"There's this tension between the motorists and their desire to travel safely and swiftly from place to place, and the residents who want to enjoy the serenity and tranquility of the neighborhood," he added. "We have to find appropriate treatments to find the best balance between the residents and the motorists, and this is going to be an interesting exploration."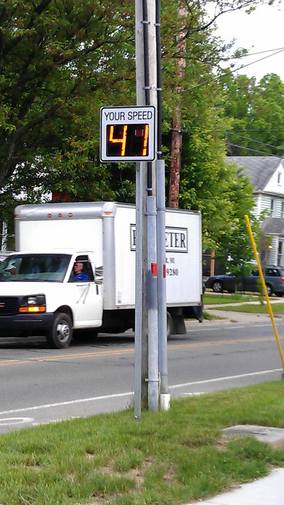 Courtesy photo
City Council Members
Mike Anglin
and
Chuck Warpehoski
, who represent the 5th Ward and the Old West Side, have taken note of the citizen group's effort. Warpehoski even has advised the group how to go about
collecting petition signatures
to get council's attention.
Anglin said the group's concerns are legitimate.
"I understand there was one instance where they recorded 51 mph with a radar gun — that's excessive," he said. "If someone thinks they can do that in the neighborhood, we should be a little more forceful about stopping that, because we have many schools in the neighborhood and I think it has a direct effect on people's housing — their quality of life and the finances on their home.
"If you live on a busy street, and we don't enforce the rules, then the price of that house will drop because no one will want to live there."
Officer Jamie Adkins of the Ann Arbor Police Department said she's working with Police Chief John Seto on traffic issues on Seventh Street.
Police officers were assigned to Seventh and Madison from April 26 through May 15. In total, assigned officers spent 440 minutes of dedicated speed enforcement in the area and wrote 22 hazardous violations and four non-hazardous violations, Adkins said.
Hazardous violations include speeding, running a stop sign, prohibited turns and improper lane usage, while non-hazardous violations include no proof of insurance or no proof of registration.
As a followup to the enforcement effort, one of the police department's speed radar signs is deployed along Seventh Street to collect further speed data.
Seventh Street does not stop
Members of the Safety on Seventh group are now going door-to-door through the neighborhood, circulating a petition calling on the city to implement traffic-calming measures. Hewett said neighbors have been eager to sign and they have about 160 signatures already.
"Roughly 50 to 60 percent of the people who live here that we've surveyed have children, so that's one of the driving concerns," he said.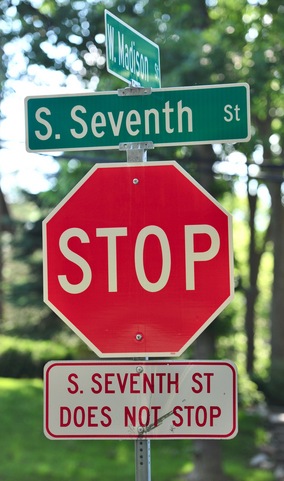 Ryan J. Stanton | AnnArbor.com
Matt Grocoff
, another Seventh Street resident supporting the effort, said an overwhelming percentage of the neighborhood wants improved conditions on the street.
One resident even dug up a 1971 report by the Old West Side Association that shows concerns about traffic and speeding on Seventh Street and other nearby streets have been around for decades.
"One of the major threats to the coherence of the Old West Side is the automobile," the report states, recommending a speed limit reduction.
With the speed limit set at 30 mph right now, Hewett said, many people take the liberty of driving 40-50 mph. By setting it at 20-25 mph, he said, maybe they'd drive closer to 30 mph.
Anglin agreed.
"I think we owe it to the citizens to drop the speeds and let people travel at about 30 mph — that's quite enough," he said.
"It all goes back to enforcement, too, and the environment," Hewett added.
"I know what we have working against us is that from Pauline to West Liberty, there's a 124-foot elevation drop, so even if you're just coasting down this hill, you're doing 45 mph.
"If you're not actively braking, you're speeding on here, so it's something in the environment we've got to change. I'm looking forward to working with the city on coming up with ways to break that momentum, slow the speeds down, and make it safer."
One of the videos Hewett posted on Facebook shows a running group having trouble crossing Seventh at Madison where there is no crosswalk. He called it "a dangerous situation" and said one of his group's goals is to get a stop sign and crosswalk put in there.
Seventh Street stretches roughly three-quarters of a mile from Pauline to Liberty without a stop sign or a crosswalk in between.
Anglin agreed it'd be fair to ask people to stop at Madison, and he doesn't think the people who live in the area would mind.
Ryan J. Stanton | AnnArbor.com
"Rather than traffic-calming using islands and things of that sort, I would like to see us just put occasional stop signs," he said. "And what we're asking for is a stop sign at Madison — so it'd be on Seventh at Madison — and you would travel about six-tenths of a mile from Pauline to the stop sign, and then you would travel like another quarter of a mile to Liberty."
Cawley said the speed and volume measurements on Seventh Street this spring were done in part to assess the suitability of a three-way stop at Seventh and Madison. Following the criteria in the Michigan Manual on Uniform Traffic Control Devices, Cawley said a three-way stop is not possible at Seventh and Madison.
"The minimum volumes, crash frequency and equal volumes on each leg criteria are not met for the intersection," he said. "Additionally, the intersection does not warrant traffic signal control."
He said stop signs are not effective at controlling speed and are strictly placed as traffic control devices to assign right of way at an intersection.
Cooper also said the city wouldn't install a crosswalk just to have a traffic-calming effect — it would have to meet a need based on pedestrian behavior, where the pedestrian system has a logical connection between residences and the schools.
"There are a number of opportunities that the attention being brought by the citizen group will enable us to focus more clearly using today's toolkit to design a system that works," he said.
Ryan J. Stanton covers government and politics for AnnArbor.com. Reach him at ryanstanton@annarbor.com or 734-623-2529. You also can follow him on Twitter or subscribe to AnnArbor.com's email newsletters.