Posted on
Thu, Jul 25, 2013 : 5:58 a.m.
Neighbors voice opposition to closing Main Street for Michigan football games
By Ryan J. Stanton
Daniel Brenner | AnnArbor.com
The
University of Michigan's
plan to
shut down Main Street between Pauline and Stadium boulevards
during football games this fall is meeting fierce resistance from some residents.
Nearly three dozen members of the community attended a public meeting Wednesday night at the downtown Ann Arbor library to hear details about the plan and provide feedback.
Several neighbors who live just west of the Big House said they're worried their streets will be clogged with extra traffic trying to navigate around Main Street.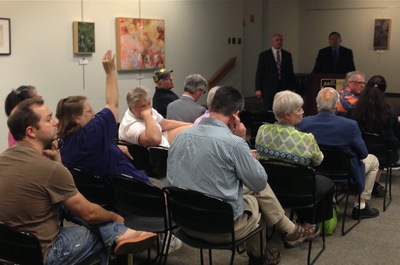 Ryan J. Stanton | AnnArbor.com
The university wants to close the section of Main Street in front of the Big House for all seven home football games this season, starting with the Aug. 31 game against Central Michigan University.
The 2013 schedule also includes a night game against Notre Dame at 8 p.m. Sept. 7.
George Feldman, who lives in the shadow of the Big House on Keech Avenue, said he thinks the proposal is more about creating a "plaza-type situation" for football fans than about safety.
"What they want to do is have a better experience for their crowd, which is understandable, but it vastly inconveniences other people in the neighborhood," he said. "It will make things worse, there's no advantage to it, and it should be voted down."
Ann Arbor Police Chief John Seto, who facilitated Wednesday's meeting, said he's supporting the university's request, which goes to the City Council for consideration Aug. 8.
Seto said he thinks the proposal strikes the right balance between providing public safety and minimizing inconveniences to residents.
"I realize there's going to be inconveniences. I recognize that and I empathize, and that's why we're here to listen to that," he said.
The university made its request to the city on July 15. U-M Police Chief Joe Piersante said the proposed street closure is 100 percent about safety.
Piersante said Homeland Security did a vulnerability assessment in 2010 — the year President Barack Obama delivered the commencement address at the Big House — and pointed out some weaknesses and made some recommendations to enhance security at the stadium.
"One was a 100-foot buffer zone all the way around the stadium, and right now we have a 100-foot zone on the east side, the north side and the south side," Piersante said. "We want to be able to complete that on the west side, which is Main Street."
Seto and Piersante both said the street closure should improve pedestrian safety, as large crowds outside the stadium sometimes spill into traffic on the street.
City Council Member Marcia Higgins, D-4th Ward, said she's not willing to support the university's request at this point given the concerns residents' raised Wednesday night.
"I'm really looking to see what the chief's going to do with this feedback," she said after the meeting. "I think he's got a lot to go back and think about."
Seto said he was thankful for the input residents provided and he's going to evaluate their suggestions.
"As far as the proposal, it has to go before council for consideration, so if there's any modifications we're able to make ... we'll certainly make those and present those to council," he said.
The city closed Main Street in front of the Big House during Obama's visit in 2010 and during the Notre Game night game in 2011. The street closed three hours before the Notre Dame game at 5 p.m. and reopened at 11:30 p.m. right before the game ended.
U-M is proposing a similar plan for this fall, with the street closing three hours before each game and reopening for post-game traffic at the end of each game.
Southbound traffic would be detoured on Pauline to Seventh Street and then south to Stadium and back to Main. Northbound traffic would follow the exact reverse of that route.
Six additional city police officers would be specifically assigned to handle the detour route and affected area. They would be assigned to Pauline and Seventh, Stadium and Seventh, and in the Allmendinger neighborhood to respond to any traffic problems in the area.
Seto said the university would be responsible for reimbursing the city for staff costs. There also would be two additional city signs and signals employees to monitor traffic control devices.
According to information provided by the city, there were few traffic backups and few complaints as a result of the street closure during the Notre Dame game in 2011 and officers assisted motorists needing to access parking lots off Main Street.
Seto said city police and university police would meet after every game this fall to evaluate any issues that might arise.
"I do not expect there to be any traffic problems," Seto said. "But if there are, there will be additional staff to mitigate those and resolve those as quickly as possible."
Jack Schoettes, who lives on Snyder Avenue just four houses down from the Big House, was in the minority in saying he likes the plan. He thinks it should have been implemented before now.
Even if the chances of a terrorist driving up Main Street and detonating a bomb next to the Big House are low, he said, it's still something the community should take precautions against.
"It's an inconvenience we're willing to deal with," he said of the street closure.
Ryan J. Stanton covers government and politics for AnnArbor.com. Reach him at ryanstanton@annarbor.com or 734-623-2529. You also can follow him on Twitter or subscribe to AnnArbor.com's email newsletters.