Posted on
Wed, Jun 26, 2013 : 5:59 a.m.
Neighbors worry 294 new apartments on Nixon Road will worsen traffic problems
By Ryan J. Stanton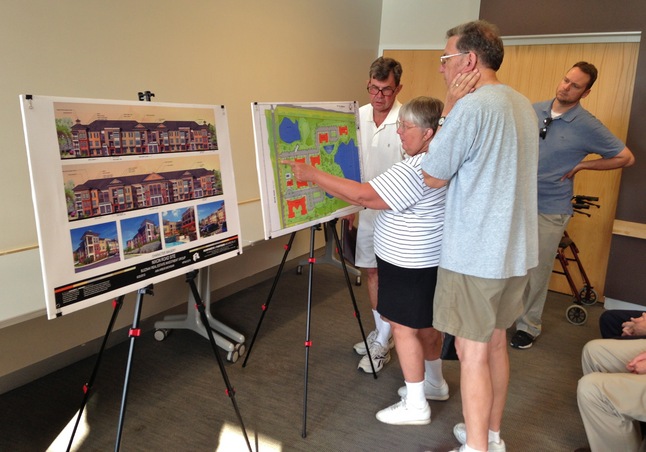 Ryan J. Stanton | AnnArbor.com
Neighbors of a proposed
294-unit apartment complex
at
Nixon Road
and M-14 say they're concerned about adding more traffic to an already congested area.
"It's hell right now," said Cathy Baker, who lives in the Barclay Park condominiums and says traffic regularly backs up on Nixon Road during rush hour.
About two dozen residents attended a citizen participation meeting hosted by the developer Tuesday night at the Traverwood Branch Library in Ann Arbor.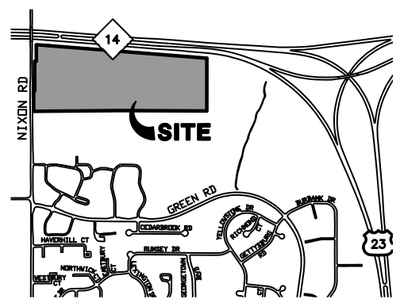 Traffic repeatedly came up as a main concern with the project.
Residents who live in neighboring apartments and condominiums said they're particularly worried about worsening traffic backups where Nixon Road meets Green and Dhu Varren roads — an unconventional four-way stop where the road jogs, with no traffic light.
"All kinds of people who live in the Detroit area come down this way," Baker said. "I mean, I can leave my house at 8 o'clock and it'll take me five minutes to get through the intersection."
The development, proposed by Bleznak Real Estate Investment Group, is the latest in a series of new multi-family housing projects in the Ann Arbor area.
Bleznak's proposal calls for five apartment buildings with 294 total units to be constructed in two phases on the southeast corner of Nixon and M-14 in Ann Arbor Township. The property is located near the Barclay Park and Arbor Hills condominiums and Windemere Park apartments.
"I know one of the big concerns that everybody has is traffic," said Scott Betzoldt of Midwestern Consulting, the civil engineer for the project. "This will produce more traffic on Nixon Road."
Betzoldt said the city's most recent traffic study on Nixon Road showed about 7,600 daily trips around the Dhu Varren/Nixon/Green Road intersection.
"This project — when complete with both phases — would add about 1,200 new trips per day to that total, for an increase of about 15 percent," he said. "The first phase we're proposing right now would add about 900 trips per day, which is an increase of about 11 percent."
Betzoldt said peak traffic — during both the morning and afternoon rush hours — amounts to about 750 vehicles per hour. The first phase of development, he said, would add about 80 trips per hour, and ultimately the full buildout would add a total of 110 trips per hour.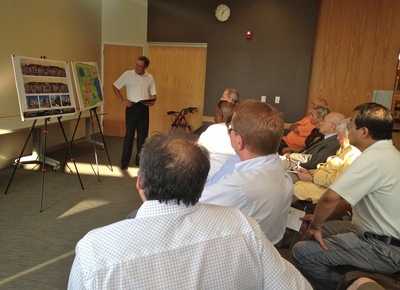 Ryan J. Stanton | AnnArbor.com
"So it is an increase, and I know that is a concern people have," he said. "We will be doing a traffic study to model what's going to happen at the Dhu Varren/Green/Nixon intersection. We don't anticipate this is going to cause any redesign of the intersection."
Betzoldt pointed out Ann Arbor has talked about putting in a roundabout, which he said definitely would help with traffic there — especially given the jog in the road.
A number of residents said installing a roundabout at the intersection would help a lot. Some said they'd also welcome a traffic light.
City Council Member Sabra Briere, D-1st Ward, said plans for a roundabout at that intersection have been pending for years, primarily because a piece of property owned by the Nixon family would be needed to align the streets and make it work properly.
"And they can't get it yet," she said. "Until they can get a piece of that parcel, they can't put in a roundabout."
Briere added, "I don't know what we're going to do about this irregular intersection between now and the time when we can talk about a roundabout."
Records show the developer purchased the roughly 54-acre property for the new apartments from Don Nixon and his sister Betty Nixon Spurway for $1.3 million in December.
Among those in attendance Tuesday was 93-year-old Betty Nixon Spurway, who said the farm property had been in her family since 1909.
She said she and her brother had dual interests in the property, and since neither of them have any children, it was up to them to figure out what to do with it.
They still own other parcels in the area that Betty acknowledged also could be sold for development at some point in the future.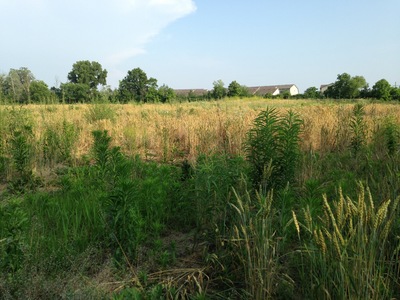 Ryan J. Stanton | AnnArbor.com
"I just want to see what the neighbors like and what they don't like," she said of her reasons for being at Tuesday's meeting. "Because we still own a little property there and we want to please them. I think it'll get developed. It's in the city plans to have it developed."
Betzoldt offered details on the unit mix and monthly rents for the proposed apartments.
The tentative plan calls for 130 one-bedroom units (around 750 square feet) priced at $1,100 a month, 145 two-bedroom units (ranging from 1,100-1,300 square feet) at $1,300-$1,600 a month, and 20 three-bedroom units (a little more than 1,400 square feet) at $2,000 a month.
Some residents said they consider the area a family neighborhood and they fear lower-income people and possibly University of Michigan students will move into the new apartments.
Betzoldt said they'll probably attract young professionals and empty nesters.
"I don't think this is going to attract low income, and this is not a subsidized housing development," he said. "They're not crazy high-end apartments. They're market-rate apartments."
Betzoldt said the first phase — which includes roughly 220 units — could break ground next spring. The timeframe for the second phase is undetermined and likely will be market-driven.
In response to a resident's question, Betzoldt said there's no chance of an M-14 interchange going in at Nixon Road. As far as sidewalks, he said, the plan is to have a sidewalk across the property frontage on Nixon Road that will connect to the Barclay Park sidewalk to the south.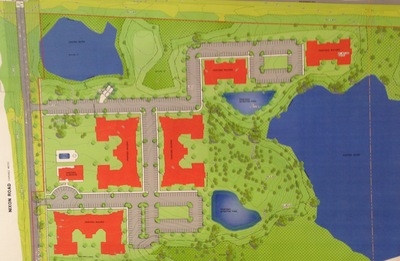 Ryan J. Stanton | AnnArbor.com
The property was used as a farm for many decades, but project officials said it hasn't been farmed in two years now — it's just vacant land at this point.
"Basically in the 1940s, almost all of it was tilled," Betzoldt said. "Then I suspect what happened is some of the farm tiles kind of gave way and they were never replaced."
He said historic photos show how wetlands appeared on the property over time. He thinks the development of M-14 had a lot to do with that.
"From that point on, farming basically took place only to the west of the main part of the wetland," he said, adding only about 15 acres of the site was being farmed in recent years.
Betzoldt said there are about 25 acres on the site that are developable — areas not impacted by wetland restrictions.
"The intention of this proposal is to minimize any disturbance to the wetlands and most of the existing woods on the site," he said.
The project requires a property annexation from the township to the city of Ann Arbor, which isn't expected to be a problem.
The developer plans to submit a formal proposal to the city's planning department in about a month, after which the project will go to the Planning Commission and City Council.
Betzoldt said the developer is asking the city to zone the property R4A residential, which would allow up to 540 apartments standing 35 feet tall with two parking spaces per unit. But the proposal they're planning to present doesn't quite reach that level of density.
Ryan J. Stanton | AnnArbor.com
Representatives of the Bleznak Real Estate Investment Group at Tuesday's meeting included Adam Bleznak, Jonathan Podolsky, and Stephen Pyett.
The company is family owned and based in Birmingham, Mich. Betzoldt pointed out they've been in business more than 40 years. In the late 1960s, he said, they developed the Woodbury apartment complex off South Industrial Highway and have owned it ever since.
Some residents who live in Arbor Hills said Tuesday night they were worried the new development on Nixon Road might try to connect to their private roads, but that's not planned.
Ig Justyna, who lives in Arbor Hills, said he's also concerned about the potential future loss of nature areas between his subdivision and the apartments.
"Where we have a nature area now, this is now all open to development, so that's the concern that we have," he said.
Kami Meader, another resident of Arbor Hills, said she's concerned about the number of new apartment tenants who will be riding the bus and getting dropped off on Nixon Road.
She said buses already come because of the Windemere Park apartments and they drop loads of passengers off close to the Dhu Varren/Nixon/Green intersection.
"It dumps off like 20 people every time it stops," she said. "And everybody is at that intersection, and I have seen people almost get run over because the cars don't know when to go.
"They drop them off right at that 5 o'clock rush hour — it's really awful," she added. "They need to fix that intersection. I mean, it's scary bad and I've seen several accidents there."

Ryan J. Stanton | AnnArbor.com
Ryan J. Stanton covers government and politics for AnnArbor.com. Reach him at ryanstanton@annarbor.com or 734-623-2529. You also can follow him on Twitter or subscribe to AnnArbor.com's email newsletters.