Posted on
Wed, May 29, 2013 : 5:55 a.m.
New $150K public art installation inside Ann Arbor's Justice Center complete
By Ryan J. Stanton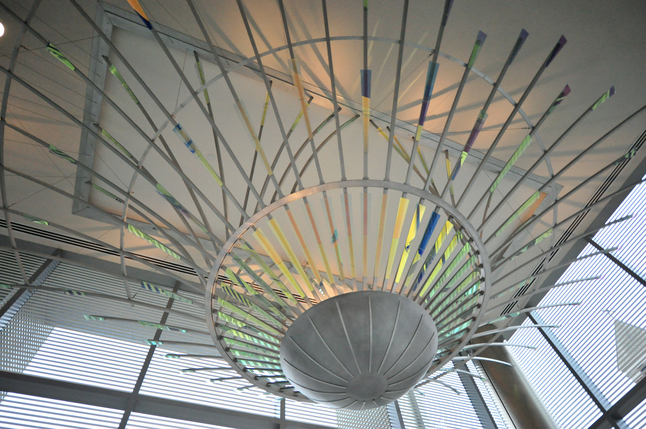 Ryan J. Stanton | AnnArbor.com
A
new hanging sculpture
can be found inside the lobby of Ann Arbor's Justice Center after Portland-based artist
Ed Carpenter
completed the installation during the holiday weekend.
The city's latest piece of public art — titled "Radius" — measures 40 feet by 20 feet by 12 feet and is made of dichroic glass, aluminum and stainless steel, with integral LED lighting.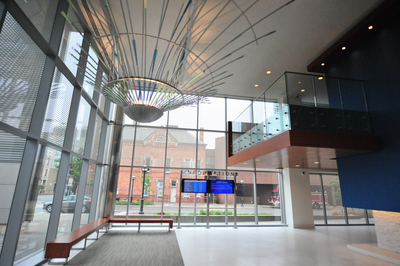 Ryan J. Stanton | AnnArbor.com
Citizens heading into the city's police-courts facility on Tuesday morning already were giving the
$150,000 installation
their own personal reviews.
Some said they really liked it, others thought it cost taxpayers too much money, and one city employee admitted she walked right by it without noticing.
Amy McCuiston, a University of Michigan employee passing through the building Tuesday morning, said she really likes the new piece, which gives off blue, green, yellow and purple glows.
"I like it a lot," she said. "I like the different colors. It's peaceful. I think it's very soothing, too, because most people when they're coming in are nervous."
Art Bolzman had a different opinion.
"It's way too much. Why would you spend that kind of money?" said Bolzman, adding he would like to see the city buying less-expensive art.
Charles Reed, a court security deputy who works at the entrance checkpoint, has a clear view of the new artwork from his work station.
He said late Tuesday morning nobody had specifically paid a visit just to see the artwork yet, but he's expecting that to change once the word gets out.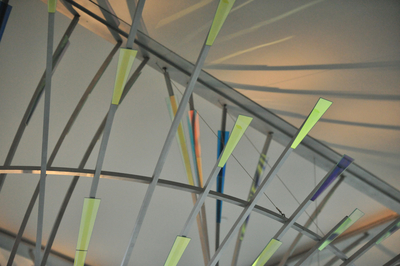 Ryan J. Stanton | AnnArbor.com
"I have no problem with it and I think it looks pretty nice up there," he said. "I have no problem with people coming to see it or anything else. It seems like a pretty nice piece of art."
The project won approval from the Ann Arbor City Council in an 8-2 vote in May 2012, with Council Members Jane Lumm and Stephen Kunselman objecting to it.
Lumm proposed canceling the project altogether and redirecting the $150,000 back to the Municipal Center project budget where the money originated. Kunselman joined Lumm in opposing the project, saying he thought there were better places for public art in the city.
The City Council is in the process of giving the city's public art program a makeover, changing the way future projects are funded and eliminating the controversial Percent for Art funding mechanism that since 2007 has channeled 1 percent of capital project dollars toward public art.
Carpenter specializes in large-scale public installations ranging from architectural sculpture to infrastructure design. He works internationally from his studio in Portland, Oregon.
His work can be found inside the Portland Justice Center, Michigan State University's Brody Hall, Rockefeller Center in New York, Sky Harbor International Airport in Phoenix, a U.S. Courthouse in Seattle, Orlando City Hall and many other places.
Carpenter said in his original proposal that "Radius" is designed to involve as much of the lobby as possible, radiating from the southeast corner, visible from inside and outside, day and night. But the sculpture wasn't easily noticeable from outside on Tuesday morning.
Lighting in the piece's hollow center illuminate gleaming glass and anodized aluminum details. When sun strikes, the dichroic glass elements reflect colored light in luminous compositions.
"Like ripples from a stone tossed into a pond, 'Radius' emanates outward through the Justice Center lobby, a reminder of the interconnectedness of the public with the agencies serving them, and suggesting a network of cause and effect in the public realm," the artist's statement reads.
What do you think of the new piece? Take our poll below.
Ryan J. Stanton covers government and politics for AnnArbor.com. Reach him at ryanstanton@annarbor.com or 734-623-2529. You also can follow him on Twitter or subscribe to AnnArbor.com's email newsletters.