Posted on
Mon, Apr 22, 2013 : 5:58 a.m.
New $4M splash park at Independence Lake County Park to open Memorial Day weekend
By Amy Biolchini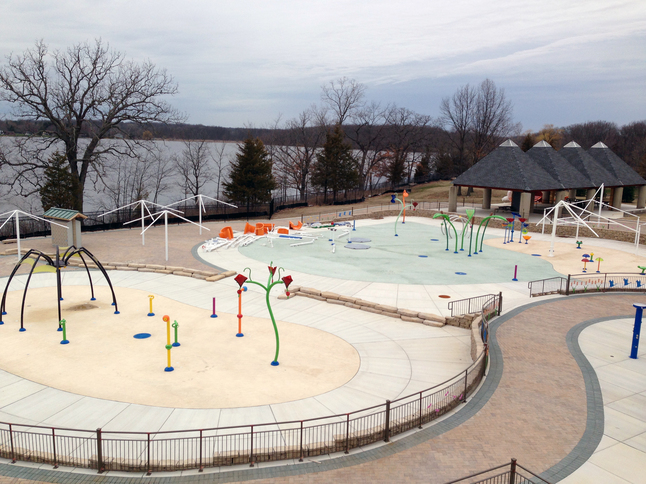 Amy Biolchini | AnnArbor.com
A new splash park is set to open the Memorial Day weekend at
Independence Lake County Park
in northwestern Washtenaw County that planners hope is the catalyst to change the way people use the park.
Work has been ongoing for two years to build the $4 million Blue Heron Bay splash park about mid-way from the park entrance to the beach on Independence Lake in Webster Township.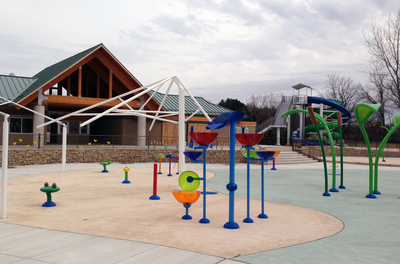 Amy Biolchini | AnnArbor.com
Blue Heron Bay is about 95 percent complete. The
Washtenaw County Parks and Recreation Commission
's construction crews are under a tight deadline to complete the park by Friday, May 24, when it will have a soft opening of the park for elementary school students by invite only. The park will open to the public May 25 -- the Saturday of Memorial Day weekend.
Memorial Day weekend also will mark the opening of the Rolling Hills Water Park at 7660 Stony Creek Road in Ypsilanti Township, which has been under construction since it closed last Labor Day. About $4.5 million in improvements are about 75 percent complete.
At Blue Heron Bay, a new splash pad with three separate areas for toddlers, families and tweens has been built at the site, as well as a two-story water slide with two flumes: One that's enclosed and one that's open.
The splash park is universally accessible. Both new water slides at Blue Heron Bay and Rolling Hills will have a minimum height requirement of 42 inches - which is different than most area water parks that have a height requirement of 48 inches.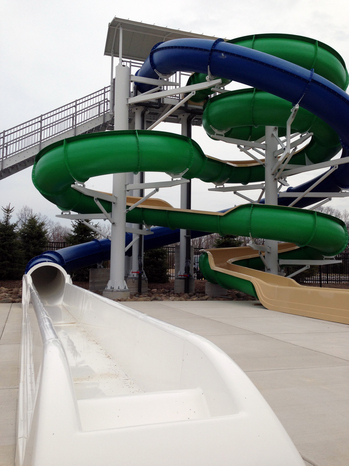 Amy Biolchini | AnnArbor.com
Capacity for the new facility will be about 750 people, and will be open from 11 a.m. to 7 p.m. daily beginning Memorial Day weekend. Though it fronts Independence Lake, the facility is separated from the water by a fence.
Because there is no standing water at the splash park, each of the attendants at the park are not required to be trained as lifeguards, said Brian Machemer, superintendent at Independence Lake County Park.
The attendants at the splash park will all be trained in first aid and CPR, Machemer said, and there will be at least one lifeguard on duty.
Patrons will be welcomed to Blue Heron Bay by a new building housing restrooms, changing areas and a snack stand. There are outdoor showers, but no indoor showers because the splash park does not include a pool.
Adjacent to the snack stand is an outdoor grill area where staff will prepare grilled chicken sandwiches and hamburgers for sale. The snack area also will be accessible from outside the splash park.
The splash park itself is divided into three areas for use using colored concrete and interactive water toys targeted at specific age groups.
For toddlers, water features are at the ground level and include small bubbling fountains and turtles and frogs that spit water. There are a number of large fabric awnings that will provide shade.
In the family zone, there are larger water features - including the central focal point of the whole park, a tall spinning wheel that will slowly fill with water before dumping it on those below. About 250 lounge chairs will be on the patio surrounding the splash pad area, as well as a number of picnic tables.
A separate zone for tweens on the opposite side of the splash park from the toddler area has many interactive water features, including water cannons and a giant spider that creates a web of water when certain sensors are activated.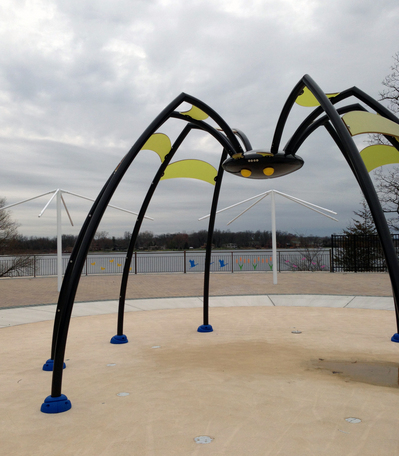 Amy Biolchini | AnnArbor.com
Splash parks use less water than a traditional pool and have a "higher fun value," said
Jeff Dehring,
principal park planner for Washtenaw County. Blue Heron Bay is equipped with a state-of-the-art UV water treatment system that adds an extra layer of protection to the water treatment process. In addition to being treated with UV rays, the water will be chlorinated and monitored.
The new facility will replace the former splash park, which was located next to the beach at the northern part of the property.
It had been operational for about 12 summer seasons and was mechanically failing, Dehring said.
The old splash park has been torn out and will be replaced by grass to create more of a natural area near the beach, Dehring said.
In previous summers, the park has been congested as users had to drive all the way to the northern half of the property to get to the beach and the splash park.
Orienting the new splash park in the middle of the Independence Lake County Park property was important to re-locate the hub of the activity to a central location, said Bob Tetens, director of the Washtenaw County Parks Commission.
The area was previously under-utilized, as it hosted a rentable pavilion - the Gamble Group Center - and parking lot for disc golf, Tetens said. The Gamble Group Center remains and has been renovated, as the new facility has been built around it.
Admission fees for Blue Heron Bay have been set by the Washtenaw County Parks Commission:
For Washtenaw County residents: $4 per day; $3 after 5 p.m. on weekdays
Non-residents: $5 per day; $4 after 5 p.m. on weekdays
Toddlers age 2 years old and younger: Free
The parks commission also has increased the fees by $1 at Rolling Hills Water Park. Rates there have not increased since 2003, and the commission felt it was justified given the millions in upgrades to the park underway.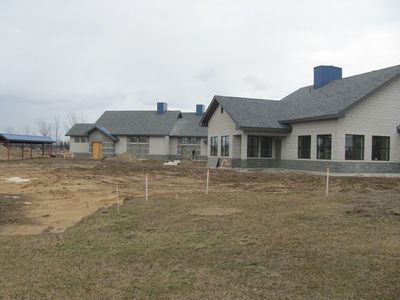 Courtesy of Washtenaw County Parks and Recreation
This summer, patrons at Rolling Hills will see a new three-story water slide with three different flumes - two that curve and one that's straight down. The slide will add to the water features in place at the park: A lazy river, splash pad, wave pool and leisure pool.
Additionally, the bathhouse and entryway have been removed and re-built in a different location to the entrance that is directly behind the wave pool.
The perimeter of the park has also been extended to allow for more grassy areas for people to sunbathe. Tetens said the parks commission is considering allowing patrons to Rolling Hills to bring their own lawn chairs this summer.
To give feedback on parks and trails operated by the Washtenaw County Parks and Recreation department, visit its online survey.
Amy Biolchini covers Washtenaw County, health and environmental issues for AnnArbor.com. Reach her at (734) 623-2552, amybiolchini@annarbor.com or on Twitter.