Posted on
Mon, Aug 27, 2012 : 2:59 p.m.
Emails show tow company owner concerned new Ann Arbor towing agreement could hurt business
By Ryan J. Stanton
A new agreement between the city of Ann Arbor and Washtenaw County is expected to provide some relief for people when their cars are towed, but it might cost tow companies.
Dennis Brewer, who owns both Brewer's Towing and Sakstrup's Towing, made that argument in an email to city officials before the City Council voted on the contract last week.
The agreement prohibits tow companies that want to do business with the city and county from charging a one-day storage fee if the person retrieves his or her vehicle within eight hours.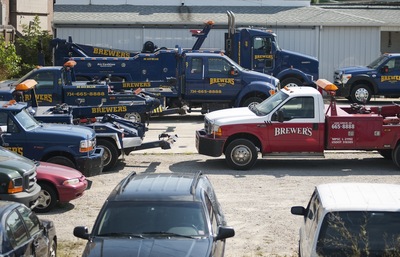 Daniel Brenner I AnnArbor.com
Brewer argued in an Aug. 19 email that the eight-hour grace period — while it would help residents save a little on costs — would be damaging to his business.
"When we negotiated the price at $120 per tow, we were under the assumption that we would always be charging storage from the time the vehicle arrived in our lot," Brewer wrote, referring to the $20-a-day storage fees that are tacked on top of other towing charges.
City officials didn't think it was fair to charge residents a full day's storage fee if they promptly paid their towing fees and retrieved their cars, so they stipulated the eight-hour grace period.
"As you know, this could cause a financial hardship for us since property taxes, fuel costs, insurance increases and labor costs are all a major concern," Brewer wrote. "We would like to be able to financially reward our employees on an annual basis, as do most companies and municipalities, and having to decrease our revenue on storage fees may impact this benefit."
Brewer sent the email directly to City Council Member Jane Lumm, which followed a phone conversation they had earlier that day.
Lumm relayed the email to other city officials and raised additional concerns on behalf of Brewer, whom she referred to as her longtime friend "Denny."
Campaign finance records show the Brewer family, specifically Brewer's wife Nancy, gave $100 to Lumm's campaign last year.
"One issue that sounds like a hardship for the potential contractors/towers is this issue of free storage for the first 8 hours," Lumm wrote.
"The financial impact of this free storage proposal on the towing companies is, as has been described to me, not insignificant," she added.
Despite her concerns, Lumm ultimately voted in favor of the new towing agreement, which was unanimously approved by council.
The five-year agreement takes effect Jan. 1, with the county assuming most of the administrative responsibilities. The county plans to issue a request for proposals, asking private tow companies to submit bids to handle public tows under the new contract terms.
Lumm said she's hopeful the RFP will address some of the concerns. But she said on Monday she ultimately came to the conclusion that having tow companies share in the city's cost reduction effort makes sense and she's confident the companies can come up with a business model that works for them.
Mayor John Hieftje said if certain companies don't think the new contract terms make economic sense for their businesses, they don't have to respond to the RFP and bid on the work.
"I'm not really concerned about the towing companies. Any company that doesn't want to work with the city or county doesn't have to," Hieftje said on Monday.
"I've been frustrated about the towing contract for several years and frustrated it took so long to get this worked out," he added. "I would have liked to see greater savings for residents because I think our charges are high, so I've been pushing for a change for a long time."
Hieftje noted the new agreement streamlines the process so people whose cars are towed can go straight to the tow yard and pay all fees there instead of first stopping at the police department.
Brewer argued that means tow companies now are going to be processing administrative fees on behalf of the city and county, and they'll have to bear the added cost of credit card fees.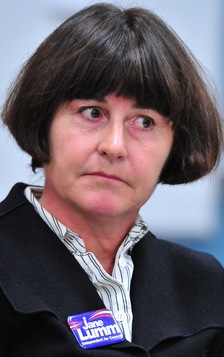 When reached by phone on Monday, Brewer declined to speak with AnnArbor.com about the issue, saying only: "I have nothing to say."
Tom Crawford, the city's chief financial officer, said the eight-hour grace period is an effort to reduce the cost of a typical tow but not have the city and county feel the full effect. He said it's also true tow companies will have to absorb the processing fee, and that'll be a factor for tow companies to consider.
"This would have the tow companies share in the effort to reduce the cost," he wrote in an email. "However, the effect on tow companies is not certain since the final RFP could address this issue by increasing the storage fee on vehicles held for more than 8 hours or some other method."
Under the new arrangement, Crawford noted, the city's $60 administrative fee for public tows also is being reduced to $45, with $30 going to the county and $15 staying with the city.
Lumm said she was only trying to understand the fairness and cost equity of what she called the "free storage" proposition.
"Obviously requiring free storage is an added cost burden for the towing companies, an added cost they are unable to recoup," she said.
Lumm said Brewer's Towing pays about $37,000 per month for fuel and she was concerned there are no fuel increase cost provisions in the contract.
She also said tow truck drivers are paid on commission, so the changes either cut into their compensation or come as an added cost of business. She said she wanted taxpayers and residents to have a good deal, but she didn't want to impose too heavy a burden on tow companies.
In addition to the towing agreement, city officials are responding to concerns raised by residents that a city ordinance related to towing abandoned vehicles may be too vague.
The ordinance in question states if a vehicle has remained standing or parked on public or private property "for a period of time so that it appears to be abandoned," the city can affix a notice to the vehicle requiring its removal. If a vehicle is not removed within 48 hours after the notice is affixed, the vehicle is deemed abandoned and the city can have it towed.
The ordinance doesn't define criteria for what can make a vehicle appear to be abandoned, nor is the "period of time" defined.
Ann Arbor resident Mahendra Ramsinghani raised concerns this past week that his Lexus and another vehicle left parked on the street near his house were deemed abandoned within about a day or two after he and his wife left to go on vacation. He paid $825 to get the two cars back.
Other residents have stepped forward since Ramsinghani shared his story with AnnArbor.com and said the same thing happened to them.
Council Member Sabra Briere, D-1st Ward, said she's heard similar stories in the past. She plans to work with the city attorney's office and hopes to bring forward changes to the ordinance regarding abandoned vehicles.
"I am concerned about trimming up the language," she said.
Hieftje said he wants to see changes, too, but he said it's important that the ordinance remains broad enough to cover a wide range of circumstances that might come up.
"It was designed to have better control over people who just leave their cars on the street," he said of the ordinance. "But it sounds like it needs some work. I'm happy to work on it."
Hieftje said the ordinance is complaint-driven, meaning a neighbor or someone else usually calls to complain before the city gets involved. Most of the time that system works well to keep abandoned vehicles off the street, he said, but other times it doesn't.
Ryan J. Stanton covers government and politics for AnnArbor.com. Reach him at ryanstanton@annarbor.com or 734-623-2529. You also can follow him on Twitter or subscribe to AnnArbor.com's email newsletters.