Posted on
Thu, Apr 11, 2013 : 5:59 a.m.
Developer: Scaled-back version of 618 South Main apartments to break ground in July
By Ryan J. Stanton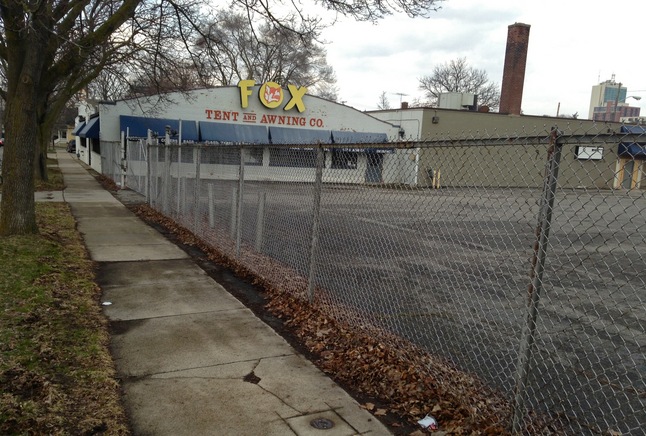 Ryan J. Stanton | AnnArbor.com
Offering perhaps the firmest endorsement a developer can give for his own product,
Dan Ketelaar
says he'll be moving into one of the
apartments he plans to build on South Main Street.
"I'm going to have an apartment on the top floor," said Ketelaar of Ann Arbor-based Urban Group Development, 225 S. Ashley St.
"I've reserved an apartment for myself and I'm going to fix it up," he said. "I think it's a great spot. I think it's a great neighborhood."
Ketelaar said he'll be moving out of his house on Ann Arbor's east side, and his significant other will be joining him in their new near-downtown abode.
"It's going to be a good product, so why wouldn't I be proud enough to move in there?" he said. "I think it's going to be a nice community."
It's been nearly 10 months since Ketelaar received approval from the
Ann Arbor City Council
for the development known as
618 South Main
, an apartment project that promises to cater to mostly young professionals — and not University of Michigan students.
Ketelaar, using himself as an example, says he's expecting the apartments also will have some appeal among empty nesters who want to downsize and move closer to downtown.
"While we're focused on young professionals, we think this is a real opportunity for people my age," he said.
Ketelaar had hoped to break ground in May, but he said the timeline's been pushed back — he's been lining up financing, revising the plans, and reducing the scope of the project.
He plans to eliminate an entire floor, reducing the building from seven to six stories, while the number of apartments drops from 182 to 156.
He hopes to have construction underway sometime in July, and he expects to be able to welcome the first tenants by summer of 2014.
"We're moving forward with it," he said. "We've gotten all our approvals and financing in place and we're in the process of getting our guaranteed maximum price from our contractor, so we're finishing all our architectural drawings and taking it through that process."
Ketelaar said his decision to reduce the building height was driven by concerns expressed by some members of the community who thought seven stories was too high. He said it also happens to work out for him financially, so he'll be asking the city's planning department to approve the revisions.
"We became more efficient with the building," he said. "There's less wasted space."
Wendy Rampson, the city's planning manager, said representatives for 618 South Main have told the city they want to make some administrative changes to the site plan, but those changes haven't been filed yet. Administrative changes typically are minor and don't require council approval.
Changes mentioned thus far, Rampson said, include raising the finished floor elevation, removing upper-floor units and connecting the pool house to the club house.
Ketelaar said the revised plans still include two floors of underground parking and amenities such as a 1,400-square-foot indoor lounge, fitness center, pool, outdoor areas with fire pits, and a rooftop terrace on the north side on the sixth floor.
"The benefit of this is you can go downstairs to a 1,400-square-foot living room," he said, envisioning the lounge will be a gathering place for tenants and foster a sense of community.
Ketelaar said more than a third of the units will be studio apartments, roughly 30 will be two-bedroom units, and the rest will be one-bedroom units.
Ryan J. Stanton | AnnArbor.com
"These aren't student housing, so we're not looking at them that way," he said, predicting rents will start at about $1,100 and go up from there.
Ketelaar said he's partnering with U.S. Equities Realty, a full-service commercial real estate firm headquartered in Chicago, to make the project happen.
U.S. Equities Realty has been responsible for a number of major projects in Chicago. It managed the design and engineering phases of the Jay Pritzker Music Pavilion (designed by Frank Gehry) in Chicago's Millennium Park, as well as Gehry's B.P. Pedestrian Bridge.
The company also oversaw the engineering and fabrication of Anish Kapoor's famous Cloud Gate sculpture, as well as the design and production of Jaume Plensa's Crown Fountain.
Chicago-based Clayco has been chosen to oversee the construction. Ketelaar said they'll be hiring many Southeast Michigan subcontractors and it'll be a union job.
Washtenaw Engineering is handling civil engineering, Ann Arbor-based Robert Darvas Associates PC is the structural engineer, and Shannan Gibb-Randall of Ann Arbor-based InSite Design Studio is the landscape architect. The building architect is Mike Siegel of Chicago-based VOA Associates.
The Habitat Co., a Chicago-based property manager, will handle leasing for 618 South Main. The company already manages two other apartment complexes in Ann Arbor: Lake Village on the city's south side and Windemere Park on the city's northeast side.
Ketelaar said it's still about a $37.5 million project. He's getting more than $6.5 million in public incentives to undertake the project, including a $3 million Community Revitalization Program loan from the Michigan Economic Development Corp., tax-increment financing assistance valued at $2.9 million, and a $650,000 grant from the Ann Arbor Downtown Development Authority.
According to the MEDC, $2.2 million in school taxes resulting from the project will be captured and reinvested into the project, along with $679,793 in local taxes. The money the DDA is chipping in will pay for streetscape improvements along South Main.
Mayor John Hieftje noted the project has support from the Old West Side Association, which told city officials last year the developer did a great job of working with neighbors to refine the design. Hieftje, who grew up in the neighborhood on Princeton Avenue, said he welcomes the project.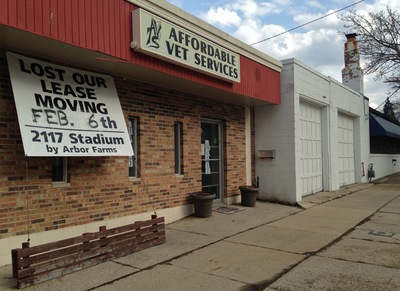 Ryan J. Stanton | AnnArbor.com
"Those are the kinds of units we really want right now, and it would be an asset to that neighborhood," he said.
The project is at the site of the former Fox Tent & Awning building, north of Mosley between Main and Ashley. Existing structures on the site still need to be demolished.
The fact that none of that work has been visible yet has led some to question whether Ketelaar was struggling to line up financing for the project.
"It's more procedural," he explained. "It's a brownfield project, so we had to go through that whole process with the state, finalize that, and move forward. It just takes time."
Ketelaar said financing a $37.5 million apartment project that isn't student housing takes a lot of work, especially when "people still look askew at Michigan, even though Ann Arbor is a strong community."
"Things have changed in the last year and a half to two years," he added. "It was more of a concern two years ago than it is now. The economy is changing."
Ryan J. Stanton covers government and politics for AnnArbor.com. Reach him at ryanstanton@annarbor.com or 734-623-2529. You also can follow him on Twitter or subscribe to AnnArbor.com's email newsletters.