Posted on
Fri, Apr 22, 2011 : 5:55 a.m.
Ann Arbor officials will consider wind options to meet city's new renewable energy goals
By Ryan J. Stanton
(This story has been updated will comment from Mayor John Hieftje.)
Ann Arbor has set a new goal: Cut greenhouse gas emissions from municipal operations in half by 2015, and have 30 percent of the city's energy needs met by renewable sources.
Lofty? Maybe, but that's the idea.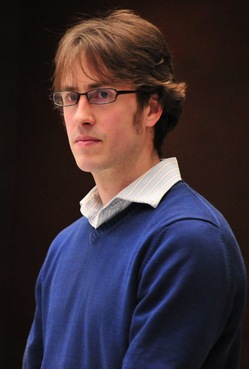 Ryan J. Stanton | AnnArbor.com
The Ann Arbor City Council voted unanimously this week to direct city staff to continue to develop and implement plans to increase renewable energy use and reduce greenhouse gas emissions — both in municipal operations and throughout the community.
The council also directed staff to conduct an evaluation of options to purchase long-term, fixed-rate renewable electricity from wind turbines constructed in Michigan.
"Ann Arbor's energy program saves money for taxpayers and we can prove that over and over again," said Mayor John Hieftje. "The same thing would hold true for wind energy from the Lake Huron coast. If the numbers don't work, the city wont do it. Simple."
The council-approved resolution sets revised "energy challenge" goals of reducing greenhouse gas emissions in municipal operations by 50 percent — and in the community by 8 percent — from 2000 levels. It also includes the 30 percent renewable goal by 2015, with the added hope that 5 percent of all energy needs in the community will be met by renewable sources by then.
The city recently met the city's previous goal from 2006 of having 20 percent of energy use for municipal operations coming from renewable sources by 2010. That's up from about 15 percent when the city started the energy challenge.
The renewable figure is a collective measure of the city's performance in the areas of electricity, natural gas and transportation. Just looking at electricity, the city hit 32 percent last year.
"While there are numerous compelling environmental benefits to reducing greenhouse gas emissions and increasing our use of renewable energy sources, the current economic downturn presents additional financial reasons to pursue these goals," Andrew Brix, the city's energy programs manager, wrote in a memo to the City Council.
Reducing greenhouse gas emissions and increasing renewable energy use means reducing the city's use of fossil fuels, which Brix said has a number of benefits:
Reducing the city's expenditures on electricity, natural gas and motor fuel used in municipal operations, which totaled $5.2 million in fiscal year 2009-10.
Most of the money spent on fossil fuel energy sources — more than $300 million each year throughout the Ann Arbor community — leaves Michigan, so reducing these expenses keeps money in the local economy.
Energy efficiency and renewable energy projects tend to employ local contractors, creating jobs, and the money saved through reduced energy bills helps to keep workers employed.
Brix said the city's energy office staff has begun monitoring communitywide renewable energy use and greenhouse gas emissions on an annual basis to understand what programs are necessary at the community level. He said staff has reviewed data on city and community energy use and suggested measures that, if implemented, would lead to meeting both the greenhouse gas emissions and renewable energy goals.
Key programs include a renewable electricity purchase for municipal facilities, increased use of renewable fuel in the community, and deployment of a community energy program for residential and commercial buildings. Brix said staff should continue to explore the Energy Commission's recommendations and consider other technologies and partnerships.
"By committing to a goal of reducing greenhouse gas emissions by 8 percent for the Ann Arbor community by 2015," he said, "city staff can continue to develop the local programs and form the community partnerships necessary to assist Ann Arbor businesses and homeowners toward sustainable energy use and also point the way for other communities in Michigan to follow."
Ryan J. Stanton covers government and politics for AnnArbor.com. Reach him at ryanstanton@annarbor.com or 734-623-2529. You also can follow him on Twitter or subscribe to AnnArbor.com's e-mail newsletters.