Posted on
Wed, May 26, 2010 : 10:06 a.m.
New C.S. Mott Children's Hospital to open year ahead of schedule
By Tina Reed
The new University of Michigan children's and women's hospital is expected to open in November 2011, a year earlier than scheduled.
The $754 million U-M C.S. Mott Children's and Von Voigtlander Women's Hospitals complex is being constructed adjacent to the U-M hospital. It'd had initially been planned to open the summer of 2011, but had been delayed to the fall of 2012.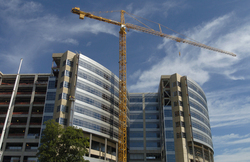 It is being built to replace the existing C.S. Mott Children's hospital and U-M women's hospital on the main U-M Health System campus.
In October 2008, the project was expanded from a $523 million project with room to expand within the facility to a $754 million project that would complete the building to accommodate increasing demand for medical services. At the time, it was announced the project would be delayed 15 months from its the completion date that was originally projected.
When completed, the complex will have 1.1 million square feet of space, including a nine-story tower for clinic space and a 12-story tower for inpatient care, diagnostic, procedural and treatment services.
The new hospital will have 348 beds, including general and critical care pediatric inpatient beds, 50 women's beds, and 32 adult bone marrow transplant beds. All beds will be in a single, private-room setting. The children's hospital will have a dedicated pediatric emergency department with a helipad on top.
The children and women's hospital is expected to create 500 new jobs in addition to the more than 4,000 workers who will make the move to the new facility in the next year.
Groundbreaking for the hospital was in October 2006 above a former parking lot next to the medical center on East Medical Center Drive. No public money is being used for the project, but funding is coming from hospital operations, reserve funds and donors.
Tina Reed covers health and the environment for AnnArbor.com. You can reach her at tinareed@annarbor.com, call her at 734-623-2535 or find her on Twitter @TreedinAA.