Posted on
Mon, Apr 9, 2012 : 5:58 a.m.
New Eastern Michigan University provost plans to bring stability to leadership role
By Kellie Woodhouse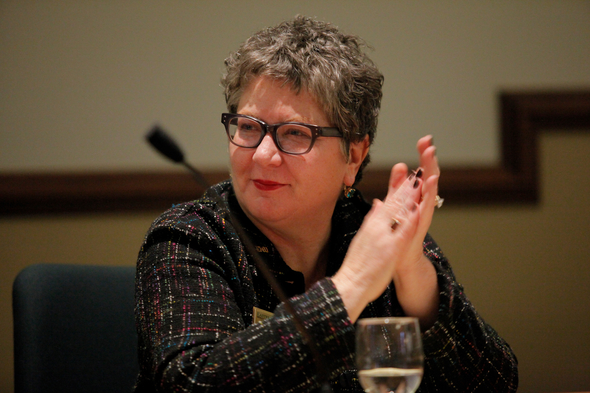 Chris Asadian | AnnArbor.com
Early in her career,
Kim Schatzel
never expected to be an administrator in academia.
But 24 years after entering the workforce as a foreperson at a Ford Pinto manufacturing plant, that's where she ended up.
In January the businesswoman-turned-academic was named Eastern Michigan University's provost.
Schatzel's career path —which includes stints as the CEO of a multimillion dollar powder metal company, a stay-at-home mom and a top-level manager of an automobile parts manufacturer— is an unconventional one for the second-in-command of a large public university.
In fact, 55-year-old Schatzel didn't join academia until she was 43 and in just 12 years has risen from professor to business school dean at U-M Dearborn to provost of Eastern.
"It's not common. It's a very rapid rise academically and administratively," said Daniel Little, chancellor of the University of Michigan's Dearborn campus. "One of the signatures of Kim's career is she's willing to take on challenges."
EMU President Susan Martin said it's Schatzel's background as a manager in the business world, rather than academia, that led Martin to select her former U-M Dearborn colleague as Eastern's second-in-command.
"She's very entrepreneurial in what she does, which in these troubled economic times is very helpful," Martin said. "She relates well to leaders in the business environment."
But if you ask Schatzel, the mother of two will tell you that while she likes gabbing it up with the business community, many of her favorite interactions are with students.
"It's taken adjustment for me to not be around students all the time," Schatzel said from her first-floor office in EMU's administration building. "It's a little but quieter here."
Yet it's from that first-floor office that Schatzel will make some significant changes that she hopes will elevate EMU's regional profile and put the school's students in a better position to successfully complete college.
Among her priorities, she says, are to revamp the school's advising system, increase dwindling enrollment in its graduate programs and boost student graduation rates.
EMU's six-year graduation rate is 37.7 percent, the second-lowest rate in the state. That's got to change, Schatzel says.
"Our retention rate and our progress-to-degree rate for our students is not where we should be," Schatzel said. "We have an obligation when we accept students to be able to support their degree in a timely manner. So where we are right now needs improvement.
''The quality of our education is terrific; we're just not doing as well as we can in terms of getting the students through our programs in an effective manner."
To ensure a higher graduation rate, Schatzel is looking to streamline the school's advising system. As it currently operates, students don't always have a consistent adviser to consult when choosing classes or picking a major. Advising practices vary by department or school, which has led to a large number of students falling through the cracks, faculty say.
"That's been a concern for some of our students," Martin said of EMU's current advising setup. "We just need to do a better job of servicing our students once they apply here and enroll here."
Schatzel put it more bluntly: "I want advising to be purposeful. What we have is something that is what it is after so many years. It's kind of a legacy."
Schatzel also wants to improve EMU's reputation.
"I feel really strongly about regional public education," she said. "Nationally we produce the vast majority of college graduates and sometimes it seems like we don't get the respect that we deserve or the recognition for doing that kind of thing."
Part of raising EMU's profile means increasing the exposure of EMU's graduate programs, most of which generate relatively little interest, Martin said.
"In this region we have so many people who need graduate certificates or graduate degrees," Martin said. "I think we just need to do a better job of making the public aware of our programs."
As a scholar, Schatzel studied marketing. Martin wants Schatzel to wield her expertise in marketing and relationships with the business community to lift EMU's regional prominence.
For her part, Schatzel says she plans to stick around and work toward an improved EMU.
"Students need stability. I'm the third or fourth provost in several years," Schatzel said. "I'm planning to stay here for a while because some of the challenges that we have aren't going to get fixed overnight."
Schatzel makes $275,000 per year, a 20 percent increase from her $218,400 salary at U-M Dearborn.
Kellie Woodhouse covers higher education for AnnArbor.com. Reach her at kelliewoodhouse@annarbor.com or 734-623-4602 and follow her on twitter.