Posted on
Tue, Jul 3, 2012 : 5:01 p.m.
New education laws prohibit passing school buses, raise minimum age for kindergartners
By Danielle Arndt
Gov. Rick Snyder signed a bill into law today that prohibits motorists from passing school buses that are loading and unloading students, no matter what.
The law voids a previous law that allowed drivers to come to a full stop behind a bus, and then proceed past the bus at 10 miles per hour "with due caution," according to an MLive.com article.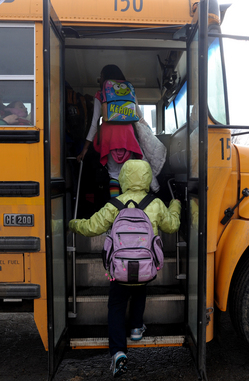 Melanie Maxwell | AnnArbor.com
The new law requires motorists to stop at least 20 feet from a school bus whenever a bus is stopped and employing the use of its two red flashing signals. The driver may proceed once the bus resumes motion.
"The safety of our students always comes first and this will eliminate any confusion as to when it is and is not OK to pass a parked school bus," Snyder said in a news release.
A person passing a stopped school bus could be charged with a civil infraction, MLive.com reported, and could pay between $100 and $500 in fines. A violator also could be ordered to perform up to 100 hours of community service at a school, according to the article.
Read the full MLive.com report here.
Last week, Snyder signed a bill increasing the minimum age requirement for a child to attend kindergarten. Starting in the 2015-16 academic year, children must be 5 years old at the start of the school year (by Sept. 1) instead of the previous cut-off date of Dec. 1.
The requirement will be phased in over the next three years, making the cutoff date Nov. 1 in 2013-14 and Oct. 1 in 2014-15.
Read the details of the school bus/student safety law here.
Read about the new kindergarten law here.