Posted on
Thu, Oct 7, 2010 : 1:52 p.m.
EPA launches new online database of bed bug products
By Heather Lockwood
In light of a recent increase in bed bugs in Washtenaw County and across the nation, the U.S. Environmental Protection Agency on Wednesday launched an online, searchable database of registered bed bug products to help consumers dealing with an infestation find an appropriate treatment.
The database includes the names of about 300 registered bed bug products — some of which can be bought over-the-counter and others that might be used by professional pest control companies, said Lois Rossi, director of registration in the EPA's office of pesticide programs.
Rossi said the database is, in part, a reaction to reports of pesticide misuse, and an effort to inform the public.
She said the EPA was "getting a lot of reports of people" who were using pesticides to treat bed bugs that had not been registered by the EPA for that particular use. And the agency has heard reports of people who were using outdoor pesticides indoors.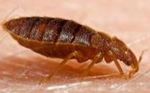 She says it's important for people to use registered bed bug products to treat the problem because they have gone through an "extensive" review process that looks at the safety of the product and how it will be used.
To find an appropriate treatment for the pests, a person can select whether they want to treat only a mattress, an entire room, an entire house, or specific cracks and surfaces, such as around baseboards. Specific products can also be searched for by active ingredient, company name or EPA registration number.
The site also offers tips for consumers using pesticides to treat bed bugs — namely to read the label first to be sure it is effective against bed bugs and to never use pesticides intended for outdoor use indoors.
Officials with the Washtenaw County Public Health Department say reports of bed bugs in the area are on the rise, due in part to resistant bugs and the increasingly transient lifestyles of humans.
As of Tuesday the health department had received 18 bed bug or bed bug-related complaints this year, said Angela Parsons, environmental educator for the health department's Environmental Health Division. She said the county received about 15 reports of bed bugs for all of 2009, compared to none in 2007. But public health officials say it's hard to get a tally on the total number of local cases because they aren't usually reported to the county.
Bed bugs are small, relatively flat, brown insects that feed on the blood of sleeping humans. In some people, bites from the tiny pests can result in red, itchy welts, similar to a mosquito bite. Other people may have no reaction to the bites.
Kristen Schweighoefer, environmental health supervisor for the health department, will be giving a talk on bed bugs from 2 p.m. to 3:30 p.m. Oct. 14 at the Ypsilanti District Library. Space is limited to about 15 people, but pre-registration is not required.
"It's primarily just a short, educational, informational session that the library requested because they've been hearing people talk about (bed bugs)," Schweighoefer said.
Schweighoefer was unfamiliar with the EPA's registered bed bug products database, and said typically the health department recommends contacting a professional pest control company.
Rossi said effectively treating bed bug infestations requires a comprehensive approach, not just a pesticide treatment. Click here to read the EPA's Top 10 Bed Bug tips for other solutions to use in conjunction with registered bed bug products.
Click here for more information on finding, identifying and controlling bed bugs.
For more information on next week's bed bug discussion, call (734) 482-4110, ext. 1385.
Heather Lockwood is a reporter for AnnArbor.com. Reach her at heatherlockwood@annarbor.com or follow her on Twitter.