Posted on
Tue, Dec 6, 2011 : 6:05 p.m.
Historical marker replaced at site of state's first Jewish cemetery following vandalism
By Julie Baker
A damaged historical marker at the site of the state's first Jewish cemetery, located on the University of Michigan campus, has been replaced, the university has reported.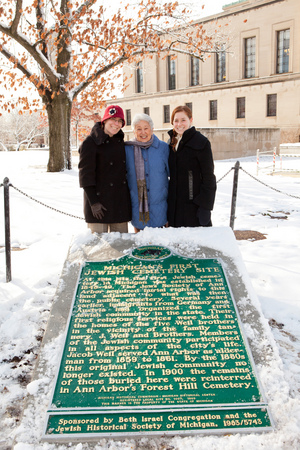 Photo courtesy of University of Michigan Photo Services, Scott C. Soderberg
The metal plaque was
badly damaged
in July. It appeared that someone had attempted to pry it off, snapping it in half, U-M police said.
The plaque sits on the southwest corner of East Huron and Fletcher streets near the Rackham Graduate School.
A new base was created to increase the angle of the marker, to better withstand weather; it was paid for through contributions. The marker's inscription was unchanged, the university reported.
According to the Michigan State Housing Development Authority, the cemetery was established between 1848 and 1849 when the Jews Society of Ann Arbor acquired burial rights to the land, which was next to what was a public cemetery.
Ann Arbor resident Helen Aminoff's research led to the placement of the plaque in the early 1980s.
Contact Julie Baker at juliebaker@annarbor.com or 734-623-2576. Follow her on Twitter @juliebakera2.