Posted on
Thu, Aug 23, 2012 : 6:44 p.m.
University of Michigan athletics launches new student loyalty program for 2012-13 season
By Kellie Woodhouse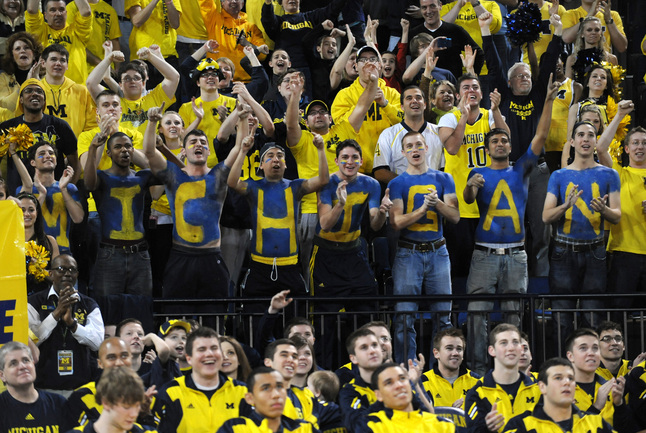 Melanie Maxwell | AnnArbor.com
Wolverine fans, remember Rocket Man? Or the card trick at Michigan Stadium last year?
If you do, you probably remember that Rocket Man was flying toward a near-empty student section and the northwest section of the stadium was sparsely populated during the card trick.
Those pre-gaming students aren't exactly reliable at showing up on time.
That's probably about to change.
The University of Michigan athletic department has launched a brand new HAIL student loyalty program that will not only encourage early student attendance to football, hockey and basketball games, but also give students incentives to attend non-revenue sports, such as swimming or baseball.
HAIL stands for Honoring Attendance, Involvement & Loyalty and is named to resemble the Wolverine fight song, "Hail to the Victors."
AnnArbor.com reported in May U-M was considering developing such a program.
The new program will award a student two loyalty points for each non-revenue sporting event they attend. Students attending revenue sports, like football, won't get two loyalty points unless they're early to games.
"In order to get full two points [at revenue sporting events] you have to at least check-in 20 minutes before game time," athletic department marketer Angela Thick told AnnArbor.com.
The program is sponsored by Flagstar Bank.
So what do you get if you're loyal?
Students will receive rewards ranging from Wolverine gear to a year supply of Coke Zero to season tickets to "exclusive Michigan Athletics experiences," according to the athletic marketing department.
There will be two ways students can sign up for HAIL and check-in at games. They can either use a mobile app, which will be able to verify they're at an event using GPS location, or HAIL check-in stations located at the games.
To receive the full amount of loyalty points available, students are expected to stay at a game until the final play is made.
A handful of other Big Ten schools, including Michigan State and Penn State universities, already have established loyalty programs.
Programs can take a variety of forms. Some models encourage students to show up to games early so the student section isn't sparse. Others encourage students to attend non-revenue, and less popular, sports. U-M's new program is a blend of both.
Last year Dave Brandon, U-M's athletic director, expressed frustration with students showing up to football games late in the first- or second-quarter. At a talk before students, he implored them to attend earlier.
The loyalty program might be just the incentive students need to have one less pre-game drink and get to their bleacher seat early.
Brandon will find out soon enough.
The HAIL rewards scale:
12 points: A Michigan shirt worth $10.
25 points: $5 'blue bucks' deposited directly in students' U-M account.
50 points: Adidas shirt and bag
80 points: Students get $100 in a Flagstar Bank checking account. They also get a Victors Club priority point, which can be use for priority standing when obtaining football or basketball tickets.
100 points: Students receive an invitation to a private athletic department event and get entered to win one of three grand prizes. One grand prize includes season tickets to football, basketball and hockey games for one student. Another grand prize is a $2,000 cash award and another is a two roundtrip airline tickets.
The highest point earner will receive recognition during a 2013 home football game.
Read about additional prizes
here
.
Kellie Woodhouse covers higher education for AnnArbor.com. Reach her at kelliewoodhouse@annarbor.com or 734-623-4602 and follow her on twitter.