Posted on
Mon, May 10, 2010 : 5:25 p.m.
New Plymouth Road park-and-ride lot offers alternative option for commuters to Ann Arbor
By Ryan J. Stanton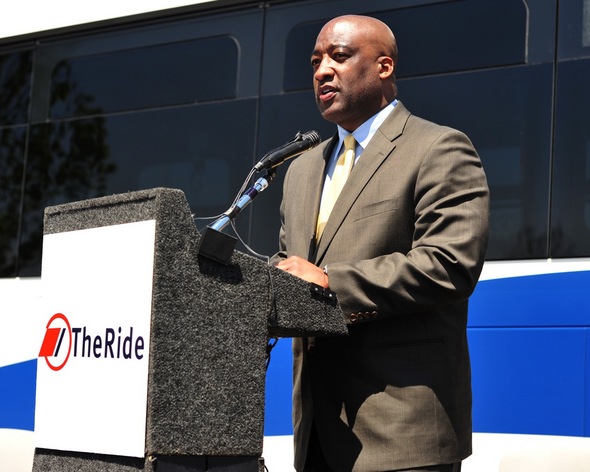 Ryan J. Stanton | AnnArbor.com
Ann Arbor Transportation Authority officials held a ceremonial ribbon cutting today, officially marking the grand opening of the agency's fifth commuter park-and-ride lot.
Existing AATA park-and-ride facilities already take nearly 1,000 vehicles off the road each year. And with the opening of the new lot on Plymouth Road at US-23, another 260 spaces are available for commuters using the heavily traveled M-14 and US-23 corridor.
"Tens of thousands of people come to work in our city every day — people who don't live in Ann Arbor," said Mayor John Hieftje, who appoints AATA's governing board. "We are exploring and working on a number of ways to bring them into the city. We provide places for them to park their cars, lots for them to park and take the bus, they can ride their bike, and now we're working on rail options to bring more and more people into our city without their automobiles. And this is just another step in that direction."
Hieftje joined U.S. Rep John Dingell at today's ceremonial event. Also there to speak were AATA CEO Michael Ford and Nancy Shore of the getDowntown Program. They said the project is part of AATA's ongoing effort to provide environmentally friendly and cost-effective transportation facilities.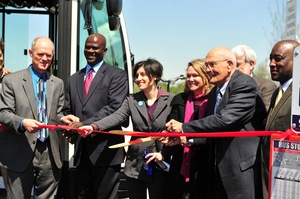 Ryan J. Stanton | AnnArbor.com
"Commuters using this park-and-ride and TheRide bus service will cut travel costs while helping to reduce traffic congestion and pollution," Ford said. "Gas emissions will be reduced significantly."
All bus rides taken from the lot this week will be free of charge. The new lot is served by AATA's Route 2 along Plymouth Road, which operates throughout the day with trips as frequently as 10 minutes apart during peak hours.
Shore pointed out the savings that could be realized by people who commute to work in Ann Arbor if they use the lots instead of paying to park downtown: About $150 a month.
"I know how important this option is for many of the commuters we have coming downtown," she said. "According to our most recent evaluation in 2009, we found that almost 50 percent of Ann Arbor employees who work downtown do not live in Ann Arbor. So that means an option like a park-and-ride lot is going to be a great way for them to get downtown, both conveniently and affordably."
Today's event was mostly ceremonial. The new lot actually opened several weeks ago and has seen heavy use since.
Construction of the lot was funded entirely through the American Recovery and Reinvestment Act of 2009.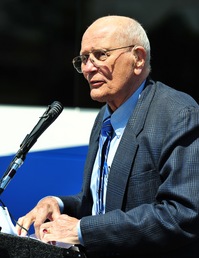 Ryan J. Stanton | AnnArbor.com
"This capital project was in the works for AATA before the ARRA, but when the stimulus passed, AATA was able to use roughly $1.5 million in funding to construct the lot," Dingell said. "This had a three-fold benefit: It saved $1.2 million in federal formula funds that TheRide will be using to purchase new buses; it freed up the state 20 percent match, or $300,000, to provide matching funds for other transit projects; and most importantly, it allowed local Michigan businesses to save jobs and hire needed workers."
The lot was developed in cooperation with the Michigan Department of Transportation, city of Ann Arbor and the Federal Highway Administration.
In addition to 260 free paved parking spaces, it features passenger shelters, lighting, security cameras, a signalized entrance-exit, enhanced storm water detention, designated areas for passenger drop-off, carpool/vanpool parking and 20 covered bicycle spaces.
Hieftje said park-and-ride lots are one part of the city's overall strategy to facilitate more sustainable transportation in Ann Arbor.
"Of course, everybody isn't going to use a park and ride lot, everybody isn't going to use a bicycle," he said. "People are still going to want to drive downtown and park there, people are still going to want to drive to the hospital and park there. But for as many of those people who will take a bus downtown, who will use a park-and-ride lot, we want to make sure that there's space for them, AATA wants to make sure there's space for them, and this is going to be a growing phenomenon around our city."
Today's ribbon-cutting helped rally support for the annual Commuter Challenge, a month-long competition during the month of May between downtown Ann Arbor businesses and organizations that encourages individuals to use sustainable transportation to get to work.
The AATA also announced a new website today at www.movingyouforward.org. The site is part of the agency's push to become the transit provider for all of Washtenaw County and includes opportunities for public input on the countywide vision.
Dingell also announced today he will be fighting for continued transportation improvements in Ann Arbor, including the Detroit-to-Ann Arbor commuter rail project and "reconstructing that miserable Stadium bridge."
Ryan J. Stanton covers government for AnnArbor.com. Reach him at ryanstanton@annarbor.com or 734-623-2529.