Posted on
Mon, Apr 1, 2013 : 5:58 a.m.
New Michigan program to provide up to $30K in relief for homeowners behind on property tax, mortgage payments
By Tom Perkins
A new program funded with nearly $500 million in federal money could help thousands of Washtenaw County and Michigan residents avoid foreclosure.
Residents who meet a minimum set of qualifications now can apply for up to $30,000 in past due property tax or mortgage payment relief through the Washtenaw County Treasurer's Office.
The program, Step Forward Michigan, is the first of its kind in that it provides funds directly to homeowners who are behind on their property tax payments. The Washtenaw County Treasurer's Office is partnering with the Michigan State Housing Development Authority (MSHDA), which is receiving federal funds from the U.S. Department of Treasury.
Wasthenaw County Treasurer Catherine McClary was one of five county treasurers statewide to help organize the program. The funds were previously only available to those behind on their mortgage payments.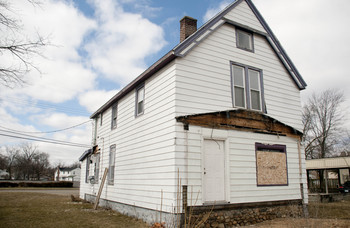 Tom Perkins | For AnnArbor.com
There are around 10,000 to 12,000 county residents annually who are delinquent on their property taxes, and no data is available for how many are behind on their mortgage payments.
McClary said she believes the program will have a tremendous affect on the local economy.
"People who are middle income, middle class or have less income than that spend their money right here in the community," McClary said. "They're spending it on food, at the local bookstore, on camp for their kids. This is the first time in the history of the country that I'm aware of that we are taking money directly from the federal government and putting it into the pockets of homeowners to save their homes from tax foreclosure."
To qualify, homeowners must meet a basic set of qualifications. The money must be used for a primary residence. Homeowners also must prove they have enough money to keep making payments after the back taxes are paid off. The assistance is a one-time offer only and is available until funds run out.
Applicants must be prepared to show a mortgage statement, proof of income, tax returns, recent paystubs and documentation of any benefits.
They also must provide a legal description of the property, a tax identification number and the amount of taxes due, which McClary said the treasurer's office would assist with.
"My office is providing one on one, direct assistance," she said.
The program started on Jan. 15 though it hasn't been widely publicized here because MSHDA is working out kinks in its phone system and McClary said her office is in the middle of its busiest time of the year.
But, so far, there are 25 homeowners who have begun the application process in Washtenaw County.
Anyone interested in more information or applying can go to StepForwardMichigan.org, or call MSHDA at 866-946-7432.
Homeowners also can call the Washtenaw County Treasurer's Office for assistance 734-222-6600, or email at taxes@ewashtenaw.org.
Tom Perkins is a freelance reporter. Contact the AnnArbor.com news desk at news@annarbor.com.