Posted on
Fri, Jun 22, 2012 : 5:36 p.m.
New report: Ann Arbor 2nd in clinical trials as Michigan builds pharma industry
By Amy Biolchini
A new industry-funded study shows clinical trials by national biopharmaceutical companies are a significant economic driver in Michigan.
Since 1999, 3,424 clinical trials for new medicines have been conducted in the state - 866 of which have happened in Ann Arbor, according to research released Friday by the Pharmaceutical Research and Manufacturers of America (PhRMA) in a press conference at the University of Michigan Health System.
Biopharmaceutical companies have generated about $1.6 billion in 95,000 Michigan employee salaries, which in part has contributed to $57 million in state tax revenue and more than $388 million in federal taxes in 2008.
Detroit leads the state in the number of clinical trials, with Ann Arbor second.
The millions of research dollars granted to faculty at the University of Michigan Medical School would mean nothing without clinical trials, said Dr. James Woolliscroft, dean of the school.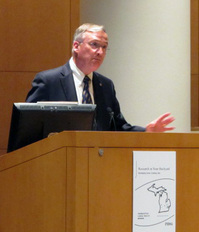 More than 400 clinical trials are ongoing at the Medical School, he said. Clinical trial research is also a growing area of study for many students studying to be physicians, Woolliscroft said.
As new medicines are developed, clinical trials are used to prove the safety and effectiveness of the treatments to meet standards set by the Food and Drug Administration.
The trials involve thousands of volunteer patient participants, and occur over seven years in three phases.
In the development of an average new biotechnology medicine - a price tag of about $1.2 billion, on average clinical trials would account for about 45 to 75 percent of the process cost.
About 25 percent of all the pharmaceutical clinical trials conducted in the state have happened in Ann Arbor - the majority of which have targeted cancer, as well as the remaining other major chronic diseases: Cancer, diabetes, heart disease, mental illness and stroke.
Though everyone wants newer and better medicines and treatments, the process is often stymied, said Jeff Trewhitt, senior director of communications for PhRMA.
Less than 5 percent of patients enroll in clinical trials, and more than 70 percent of clinical trials have patient enrollment problems that result in delays of the process and a lag in drug development, Trewhitt said.
The climate in Michigan - which includes a strong infrastructure for "top-notch" biopharmaceutical research - is why the state falls above the middle of the pack nationwide when it comes to clinical trial research, Trewhitt said.
"We do have a prevailing message," Trewhitt said of PhRMA. "Keep that environment to sustain this very expensive research."
California, Massachusetts, New York and Ohio lead the way with clinical trials, Trewhitt said.
Though there is no current legislation in the Michigan House or Senate that would threaten the industry, should the state put price controls on certain medicines, Trewhitt said the pharmaceutical companies would likely look elsewhere when conducting their clinical trials.
"It's not just enough to do the trials… it takes a lot of focus on lateral policies," said Stephen Rapundalo, CEO of MichBio and chairman of the Michigan chapter of We Work For Health.
Rapundalo noted Michigan leaders would like to see the industry grow, which was echoed by the two Republican state congressmen in attendance at the Friday press conference.
Michigan's economy has been able to shoulder the decline of the auto industry by relying on its agricultural and tourism generators, said State Rep. Mark Ouimet, R-Scio Township, but noted that the entrepreneurial nature of pharmaceutical companies is important to the state.
"The research part of what goes on at our three research universities was our shining star in the last decade," Ouimet said Friday in an interview with AnnArbor.com.
Ouimet said that since the biopharmaceutical industry is heavily regulated, the state needs to make sure the environment remains friendly to the companies for growth.
"We, in the legislature, are going to continue to expand that in any way we can," said Michigan Senate majority leader Randy Richardville, R-Monroe.
Retraining people displaced by lost auto industry jobs into new fields is something that's very important in the legislature, Richardville said.
Amy Biolchini covers Washtenaw County, health and environmental issues for AnnArbor.com. Reach her at (734) 623-2552, amybiolchini@annarbor.com or on Twitter.