New report shows Michigan Supreme Court often rules against the environment
Posted on Sat, May 26, 2012 : 1:02 p.m.
The Michigan Supreme Court has recently established a track record for ruling against the environment - as justices have ruled negatively against four of the most recent cases that had "green" impacts, according to a new report.
The Ann Arbor-based Michigan League of Conservation Voters has compiled a "Green Gavels" report that has sifted through the past 30 years of cases adjudicated by the Michigan Supreme Court.
The Michigan League of Conservation Voters is known for its green scorecards for state legislators, and began tracking Republican Gov. Rick Snyder's record when he took office. The league endorsed Sndyer during his campaign for the governorship.
With the addition of the "Green Gavels," each of the three branches of government is now rated for its environmental impacts.
Students in the Environmental Law and Policy Program at the University of Michigan Law School identified 34 cases from the past 30 years that had implications on environmental issues and policy.

From the online report
"The more recent (cases) are about how citizens in Michigan are able to protect environmental resources," said
Drew YoungeDyke
, policy and communications specialist for the organization.
From those cases, staff at the League of Conservation Voters assigned green (positive), yellow (neutral) and red (negative) gavels to justices past and present, as well as to court case outcomes.
The findings were then approved by an advisory board.
About 35 percent of the cases received red gavels, 38 percent of the cases received yellow gavels and 9 percent received green gavels.
"Green Gavels pulls back the heavy velvet curtains that have surrounded the Michigan Supreme Court for so long and allows citizens to look objectively at how each decision impacts our land, air and water," said league Executive Director Lisa Wozniak in a news release.
YoungeDyke said the report is reflective of how judicial philosophy reflects on the environment and environmental protection, not personal opinions on issues.
A scoreboard was compiled for current justices, as the research team couldn't accurately create complete records for every justice - as many of them were ruling on cases that came before their 30-year cap.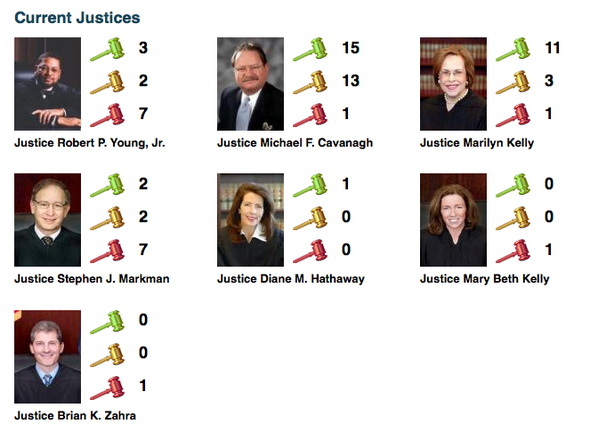 From the online report