Posted on
Wed, Jan 9, 2013 : 4:04 p.m.
New roofs coming to Ann Arbor's Cobblestone Farm and events barn
By Ben Freed
The historic Ticknor-Campbell cobblestone farmhouse and its neighboring events barn in Ann Arbor have both been plagued recently by roof leaks.
The Ann Arbor City Council passed a resolution Monday to authorize new roofs for both buildings at the Cobblestone Farm property on Packard Road.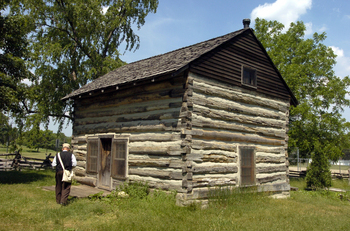 Alan Warren | File photo
The farmhouse, built in 1844, has had the same cedar shingle roof since 1977, five years after the city acquired the house from its previous owner. According to an architectural company hired to review the building in 2012, "the roof is in poor condition and weathered beyond repair."
The house is a historic building, and the roof will be repaired with traditional cedar shakes and copper flashing. The cost for repairing the roof as estimated by the lowest submitted bid, approved by the city council, will be $62,500.
The events barn was constructed in the late 1980s and has not had a new roof since its construction. According to a staff report submitted to the city council, "repeated patching of the roof is no longer practical or effective."
The shingles on the barn will be replaced with a composite material produced by Enviroshake. The material is created from a combination of primarily recycled materials including post-industrial plastics and recycled rubber. The Historic District Commission staff approved the alternate material that, according to Environshake, is completely maintenance-free.
Roof replacement on the barn will cost $47,000 bringing the total replacement cost for the two roofs to $109,500. Renaissance Restorations, Inc., headquartered in West Bloomfield, won the contract. The resolution to approve the contract passed by a vote of 10-0 with Mike Anglin (D-5th Ward) absent.
Ben Freed covers business for AnnArbor.com. You can sign up here to receive Business Review updates every week. Reach out to Ben at 734-623-2528 or email him at benfreed@annarbor.com. Follow him on twitter @BFreedinA2